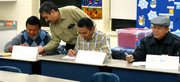 The number one goal of most students of English as a Second Language is a universal one: to communicate. In particular, the adult students of St. Mark English as a Second Language (ESL) program want to be able to converse in English with their children, with their employers and with their neighbors. And, sometimes, with their doctors. "Our students consistently ask for more opportunities to practice conversation in class. With so many other skills to cover in ESL class, time is a factor," explains Program Coordinator Ida Hiller. "But a recent medical emergency that struck the child of one of our ESL students underscored how important conversation skills are in dealing with every day life, including the occasional health crisis. This spring we invite our intermediate and advanced students to participate in 'Let's Talk,' a new conversation group that will be organized around different topics each session."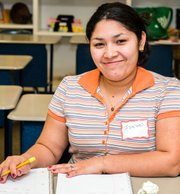 The conversation group will be held before ESL classes, from 7-7:45 p.m., and registration will cost $10 for nine weeks. Two facilitators will lead each session. Participants must be concurrently enrolled in a St. Mark ESL intermediate or advanced class this spring.
For the winter 2013 semester, students from South Korea, El Salvador, Peru, Guatemala and Brazil comprised the largest country groups.
St. Mark ESL also offers a citizenship class to prepare eligible students for naturalization. The class is open to students who meet the English proficiency and length of legal residency requirements to apply for citizenship.
St. Mark ESL program for adults will register students on Tuesday, April 9, and Thursday, April 11, at 7 p.m. The cost is $25 (cash only) for nine weeks.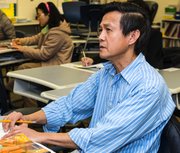 Each student will take a placement exam; new students must also purchase a book. There are seven levels, from Beginner 1 to Advanced 2, and space in each class is limited. Classes will begin on Tuesday, April 16. English classes will take place from 8 to 9:30 p.m. on Tuesday and Thursday evenings; citizenship classes will be from 6:30 to 8 p.m.; conversation groups will meet from 7 to 7:45 p.m.
Students interested in the citizenship class must present a green card showing that they have met the Legal Permanent Resident requirement to apply for U.S. citizenship and demonstrate at least an intermediate level of English proficiency.
For additional information in Spanish or English, students may call 703-622-4153 or 703-626-3585. For additional information in Korean, students may call: 703-994-8510 or 703-505-0123. Students or volunteers may also contact st.mark.esl@gmail.com.