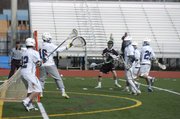 Fairfax — On March 27, the Robinson boys' lacrosse team lost to an unknown opponent. The following day, the Rams beat the four-time defending Virginia state champion, leading head coach Matt Curran to voice concern about his team potentially resting on its laurels.
While Curran might have to play the role of team psychologist, the Rams showed during spring break they can hang with the best.
Robinson defeated Langley 9-6 on Thursday, March 28, at the Ram Slam tournament at Robinson Secondary School. The Rams jumped out to a 5-0 lead against the four-time defending state champion Saxons and cruised to victory.
Now Curran will have to deal with any repercussions.
"It gives them confidence," Curran said. "What I don't want it to do is make them cocky, get their heads too big. … We can't get complacent. We can't think, oh we beat Langley so we're really good. We lost [on March 27] to a team called Midlothian these guys have never heard of before. They're a good team. I feel like there's a lot of parity so we can't—and I've got to try to impart it on young guys—that we can't come out and think just because our name is this and their name is that that the game is going to go a certain way."
SOPHOMORE ATTACKMAN Chapman Jasien led the Rams on offense, scoring three goals. Jasien, listed at 5-feet-6, 140 pounds, led Robinson with 17 goals through five games.
"He's an exceptional player," Curran said. "… He's not a big guy, but he's super quick and he's very, very strong for a little guy and I think that he's deceptive in that people think they can push him around and they can't. He also has the absolute best stick skills on our team—some of the best stick skills I've ever seen in a player, especially a sophomore. He started last year as a freshman; he's that type of player."
Jasien's third goal gave Robinson a 7-2 lead with 5:52 remaining in the third quarter. The Rams led by as many as six in the second half.
"We really just wanted to play smart and get the job done, that's really all we discussed," Jasien said. "We didn't even talk about them being four-time defending state champs because that's obviously intimidating. We just said play smart and just get it done."
Senior attackman Charlie Morrisette and senior midfielder Connor Lloyd each had two goals for Robinson. Freshman midfielder Johnny Daniel and sophomore attackman Chris White each had one.
Curran praised the effort of sophomore defenseman Jack Rowlett, who is committed to the University of North Carolina, saying he played a "phenomenal" game.
Junior goalkeeper Nick Kondracki finished with 12 saves.
"He played extremely well, especially down the stretch," Curran said about Kondracki. "This is a very good team we played, so he did a good job coming up with some really big saves—saves that you want a good goalie to make, or you're kind of expecting, but they don't always make them, and he did today."
Kondracki and the Robinson defense held Langley without a goal for the first 22 minutes of the contest.
"I felt great," Kondracki said. "During my warm-up, I didn't do too well, but I stepped up."
Daniel scored the only goal of the first quarter, giving Robinson a 1-0 lead. The Rams extended their lead to 5-0 before Langley scored a pair of goals in the final two minutes of the first half. Robinson outscored Langley 3-0 in the third quarter, including a pair of goals by Lloyd, and took an 8-2 lead into the fourth quarter. Morrisette's goal with 7:32 remaining gave the Rams a 9-3 lead before Langley scored the final three goals of the contest.
ROBINSON LOST its following game, falling 15-9 to Madison on April 1. The Rams went 2-2 during spring break, moving their overall record to 4-2. Robinson beat Bethesda-Chevy Chase (13-1) and Langley at Ram Slam, and lost to Midlothian (7-6) and Madison.
The Rams will travel to face Woodson at 7:15 p.m. on Friday, April 5.