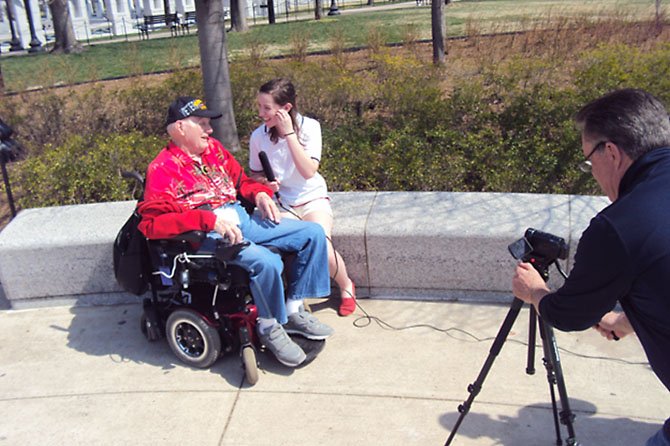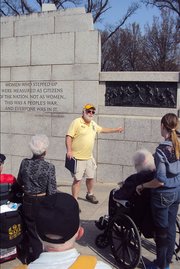 The heat is palpable and the buzz of tourists is mesmerizing but Courtney Simmons is focused on Carmel Whetzel's account of his World War II experience. Whetzel is a veteran and Simmons, a current freshman at George Mason University and a West Springfield High School graduate, is interviewing him as part of "Capturing the Voices of World War II: A Student Interview Project." On Tuesday, April 9, Simmons and West Springfield seniors Elizabeth Bowman and Mason Dumond interviewed four World War II veterans in front of the National World War II Memorial. The Tuesday interview was one of many that have been conducted since May of 2012 by volunteer West Springfield students with the Friends of the National World War II Memorial. As their director of education, and a former West Springfield history teacher himself, Jim Percoco initiated the project and recruited interested students to conduct the interviews and take on the responsibility of documenting history.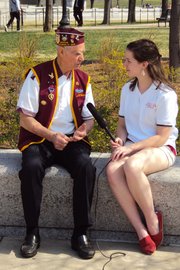 According to the students, hearing stories directly from veterans is more worthwhile than any textbook. "Textbooks tell you what happened and they highlight certain things, but when you're talking to [the veterans] you get to hear everything," says Bowman. The students recounted one humorous story in which a veteran had unconventionally caused the surrender of five German soldiers when he wandered into the woods to relieve himself and caught them by surprise. "We're actually talking to [the individuals] the textbooks are talking about," said Simmons. Although they are familiar with the subject through books, documentaries and lessons at school, the students say that the experience has enhanced their own knowledge. Bowman says that "hearing about first encounters, like steps onto Normandy or shots fired" has allowed her to see a more personalized experience of the war.
The project is a learning opportunity ranging from history to communication and video production skills. The students are trained to conduct the interviews and to correctly manipulate the sound and camera equipment. "I do a lot of the camera work. I still talk to the veterans, but I get nervous in front of the camera," says Dumond. As the project continues, the students will be trained to edit the videos, allowing more students of different skill sets to get even more hands-on with the project.
The students volunteer for the Friends of the National World War II Memorial, which hosts these interviews and maintains an online collection.