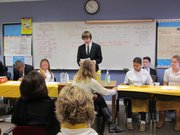 Touched by the shooting at Sandy Hook Elementary School in Connecticut, the 8th grade at Christ Episcopal School studied gun violence in America and around the world. The early discussions centered around the question of whether there should be a federal law restricting gun ownership.

The 8th grade was divided into two opposing teams and spent two weeks, researching and refining arguments in favor of and against gun restrictions. Their research began at Christ Episcopal School, but included an off campus trip to the Rockville Public Library where they learned how to access credible evidence. In school, the 8th grade learned the art of debate with the help of Virginia Iaquinta, their English and social studies teacher and former lawyer.
Finally, the two groups presented their arguments to a panel of seven judges including administrators, teachers and John Sellinger, a practicing attorney. Each side presented an argument and the judges, along with the 7th grade, had an opportunity to ask questions.
In the end the team against the resolution for a federal law won by a score of 91-88 based on a detailed scoring matrix.