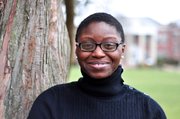 University of Mary Washington student Shirley Martey of Centreville, is the recipient of the 2013 Ambassador Summer Scholarship from the Taiwan-U.S. Sister Relations Alliance (TUSA). Martey, chosen to represent the Commonwealth of Virginia, is the first UMW student to be awarded the scholarship.
Martey is the daughter of Hannah Martey of Centreville, and is a 2006 graduate of Centreville High School.
A junior political science major, Martey is a member of UMW's Finance Committee and is the treasurer of the Student Government Association. She also serves on the College of Arts and Sciences Curriculum Committee and has been active in Student Senate. Martey is a member of the Mortar Board national honor society and Pi Sigma Alpha, the political science honor society. She has been named to the Dean's List.
The Ambassador Scholarship provides funds for an eight-week study of Chinese language at the National Cheng Kung University in Taiwan. Recipients of the scholarship learn Mandarin Chinese and experience Taiwanese culture while representing the U.S. TUSA promotes peace in the world by creating closer friendships and understanding between the people of the U.S. and the people of Taiwan.
More like this story