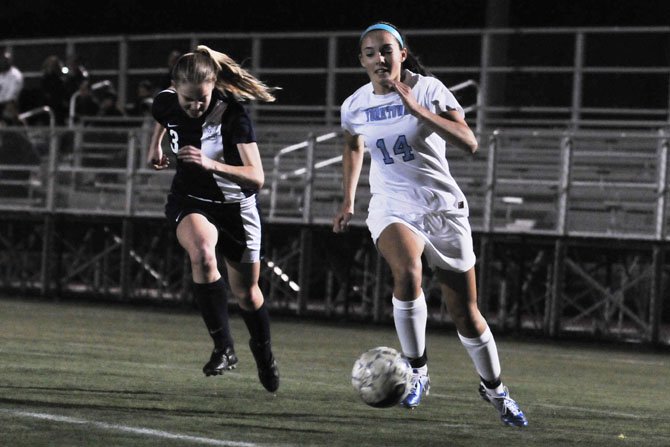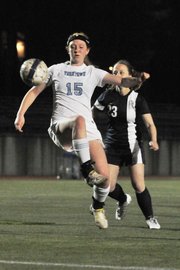 Arlington — Yorktown junior Alex Puletti did more than break a scoreless tie when she found the back of the net in the 15th minute against Washington-Lee — she opened the floodgates for a Patriots goal-scoring barrage.
The Yorktown girls' soccer team turned Monday's rivalry matchup with W-L into a blowout as the Patriots cruised to a 6-0 victory at Greenbrier Stadium. Yorktown built a 2-0 halftime lead and padded its advantage with four second-half goals.
Junior midfielder Emma Shumway produced a hat trick for Yorktown, including a pair of goals in the second half. Shumway gave the Patriots a 2-0 lead with a goal in the 19th minute. Her second goal came via clean up as she tapped the ball into an open net in the 45th minute, giving the Patriots a 4-0 advantage. Shumway scored her third goal off a cross from junior Meghan Flynn in the 51st minute, extending Yorktown's lead to 5-0.
"We've been waiting for [Shumway to] click," Yorktown head coach Vicky Brunt said. "… She has found the back of the net a couple times [this season], but I think tonight she was kind of clicking."
Shumway said the Patriots can't assume they will play as well down the road.
"It's definitely a confidence booster, but we might have to face them again for districts and we know we can never expect to win like this unless we play like this," Shumway said. "The scores can vary so much. [Two seasons ago], we lost to [W-L] in the [regular] season and then we beat them [in the] district finals by a lot, so I think it really changes."
Puletti scored a pair of goals for the Patriots. Her second came in the 43rd minute, giving Yorktown a 3-0 lead.
"We're going to go a bit further this year. They've decided. We're making a run for the states, but you've got to start saying it and believing it before you get there."

— Yorktown girls' soccer coach Vicky Brunt
"Puletti, she's very effective and she just hasn't been scoring as much this season," Brunt said. "When she scored two of the first three goals, I think I said this is going to be, hopefully, a very good turning point for her, because I think that's all she needed was a bit more confidence — and scoring goals, that can bring it."
Flynn scored Yorktown's final goal and recorded three assists.
"Meghan Flynn's been stepping up and scoring a bunch of goals for us," Brunt said. "She created a bunch of stuff but she just couldn't find the back of the net too many times, so it was awesome for other people to step up and have looks and finish them."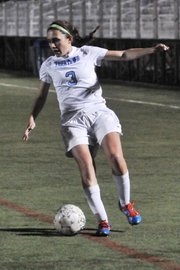 The victory extended Yorktown's winning streak to five and improved the Patriots' record to 6-1, including 2-0 in the National District. Yorktown has outscored its opponents 30-3. The Patriots' lone loss was a 2-1 defeat against Centreville of the Concorde District on March 14. Yorktown has non-district wins against Fairfax, Annandale, Lake Braddock and Woodson.
Yorktown has won the last two National District championships and last season advanced to the Northern Region semifinals before losing to eventual region champion Stone Bridge.
"We're going to go a bit further this year," Brunt said. "They've decided. We're making a run for the states, but you've got to start saying it and believing it before you get there."
Flynn is on board.
"I absolutely believe we have the potential to go to states if we keep doing what we're doing and just keep our winning streak alive," Flynn said. "… I want to win states. I think we can."
Meanwhile, Washington-Lee, which entered Monday's contest with a 6-1 record, was left to regroup.
"[I told] them that they're capable of doing better," W-L head coach Eddy Matos said. "They know. We've played teams just as good. It's a Monday thing. Psychologically, our girls have a hard time playing against Yorktown, I don't know why."
The Generals will host Stuart at 7 p.m. on Friday, April 19. Yorktown will travel to face Mount Vernon at 7 p.m. on Wednesday, April 17.