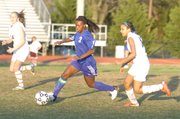 Jim Rike became a high school head coach at the age of 24 when he took over the Falls Church boys' soccer program. He envisioned a career of considerable length, but as it turned out, he had no idea just how long he would stick around.
"I figured about 20 years," Rike said recently, "and I'd be done."
Rike has shown tremendous coaching longevity since his days with Falls Church. However, he sold himself short with the two-decade prediction.
Way short.
RIKE, NOW 60, is in his 37th season as a high school head soccer coach in Northern Virginia. Rike took over the Robinson girls' program after five seasons coaching the Falls Church boys' team, and has spent the last 32 years leading the Rams. Robinson has won five state championships under his watch, including the 1994 team that finished undefeated and ranked No. 2 nationally in the NSCAA/Umbro top 20 poll. The Rams at one point won six consecutive region titles (1994-99).
"I've enjoyed the kids," Rike said, "and the experience."
While Rike had already accomplished plenty, the 2013 Rams helped him add another achievement to his resume.
Robinson defeated West Springfield 6-0 on April 4, giving Rike 500 career victories. The Rams were hoping to reach the milestone last season, but would have needed a deep postseason run in order to compile the necessary wins. Instead, Robinson's 2012 season ended with a loss to Yorktown in the Northern Region quarterfinals.
"Last year, they were aiming for it too, and we didn't get it so we were really motivated to get it this year," senior Savannah Miller said. "It was a really good experience. We all stormed the field and we could see how happy he was. It was wonderful."
After win No. 500, Robinson beat South County 1-0 on April 8, improving the Rams' record to 5-1-1. The following night, however, Robinson lost its Concorde District opener to Chantilly, 7-1.
The lopsided loss to the Chargers was a reminder that the youthful Rams were bound to take their lumps.
"He's really dedicated. He cares a lot about us. We respect him a lot, he's very experienced [and] he knows what he's talking about. We look up to him because we know he's been through it all."

—Robinson senior Savannah Miller about head coach Jim Rike
"I really wasn't focused as much on [winning No. 500] as the kids were," Rike said. "We've got a really young team this year and we've had peaks and valleys, as you can see. We played so well against West Springfield—that was the 500th win—the kids were all fired up. And then, against Chantilly, it was 2-1 at half and we got down a couple goals early and the bottom just dropped out. You could just see it in the kids—it was like a deer in headlights.
"… Some of the parents came to me and I said you guys got a little overconfident after West Springfield. I told you this is a rebuilding year for us. We've got a lot of young kids playing, we're starting three freshmen and there are going to be peaks and valleys and that was definitely a valley.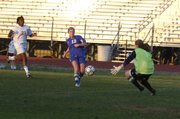 "I told the girls, you set two records this year: we got 500, and never in my life has a team I've coached ever given up more than three goals in a game and you gave up seven in one game. I said that's quite an accomplishment."
Robinson bounced back with a 6-0 victory against Mount Vernon on April 12. Miller, senior Haley Roberson, junior Alex Nagle, freshmen Katia Rabinowitch and Charlotte Hyland, and senior Annie Goetz each scored a goal for the Rams.
"He definitely cares about his players," Roberson said about Rike. "He goes above and beyond to make sure that if how he's doing isn't working, he will adjust to how a player needs to play."
ROBINSON lost to Westfield 2-1 on Monday, April 15, dropping the Rams' record to 6-3-1 overall and 0-2 in the Concorde District. It brought Rike's career record to 502-131-55. Robinson travels to face Centreville at 7 p.m. today.
Rike wrote in an email he's unsure how much longer he'll be coaching. For now, the Rams' next opponent is Oakton, which Robinson will travel to face at 7 p.m. on April 25.
"He's really dedicated," Miller said. "He cares a lot about us. We respect him a lot, he's very experienced [and] he knows what he's talking about. We look up to him because we know he's been through it all."