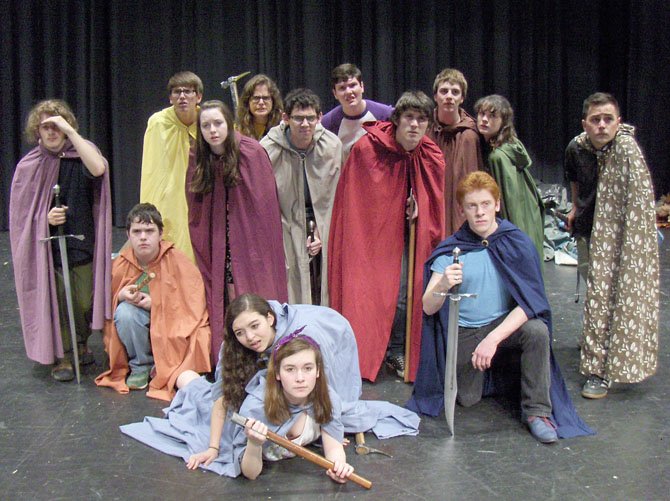 Welcome to Middle Earth, as envisioned by J.R.R. Tolkien in Woodson High's production of "The Hobbit." It's the adventure of a peaceful homebody persuaded by a wizard to help a group of militant dwarves reclaim their treasure from a marauding dragon.
"One of our biggest challenges was building a huge, dragon puppet," said Director Terri Hobson. "There'll be lots of caves, rocky hills and earth tones. And we actually have five girls who are being trees."
The curtain rises Friday through Saturday, April 26-27, and May 3-4, at 7:30 p.m. There are also Saturday 2 p.m. matinees, with a cast meet-and-greet after both. And on Tuesday, April 30, at 3 p.m., several staff members will also be in the show. Seating is reserved; tickets are $5 for children 12 and under and senior citizens; everyone else, $10 at the door or $8 via www.wtwdrama.org.
It features a cast and crew of nearly 85 and, said Hobson, "We have great kids, including many new to the program, but they bring a lot of good energy and talent to the show. And senior Ryan Taylor composed background music and some songs for it."
DIFFERENCES between species are portrayed through costumes and makeup. For example, said Hobson, "The wood elves are warriors, so their costumes are in darker earth tones and have leather with armor. But the valley elves are more playful, so their costumes are lighter and more flowing, like typical fairies."
In addition, all male dwarves will have beards; and special prosthetic ears and noses will differentiate the elves from the trolls, dwarves and goblins. "The kids are having a great time with it—even promoting their own species on Facebook," said Hobson. "There are always lots of actors on stage at the same time and they've developed a great chemistry with each other."
She said audiences will be interested in seeing this adaptation of the classic story. "It's going to be a really nice, visual spectacle," said Hobson. "We have a beautiful, Middle Earth backdrop, fun costumes and makeup, fresh new faces and tons of talent."
Playing the hobbit, Bilbo Baggins, is senior Jake Krauss. "He's overly cautious, proper and withdrawn, and would rather stay in his hole than go out and do anything," said Krauss. "But he has a touch of wanderlust that's enough to get him going. I like his sense of humor and cheerfulness. Out of all the dwarves, he seems more spirited and optimistic."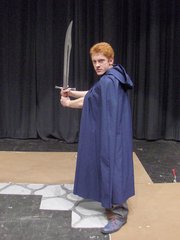 Calling the show "a fantastic piece of escapism," Krauss said, "We're conveying this magical reality that's both funny and emotional, and the audience will be able to connect with the characters. It's an all-around quality production."
School technology coach Sam Wightman portrays Bilbo in the staff show. "He likes hanging out at home and doesn't like things getting too crazy," said Wightman. "But when [the wizard] Gandalf comes into the picture, he realizes Bilbo's secret longing to have an adventure."
Wightman normally works with the students as a teacher and administrator so, he said, "It's nice to be able to relate to them on a more peer level. It's cool playing this character because he's the lead hero that everybody drools over—the top dog of Middle Earth."
NOTING "THE HOBBIT'S" POPULARITY now because of Peter Jackson's movie version, Wightman said the actors' energy will resonate with audiences. And, he added, "All the characters get to look as gross and disgusting as they want."
Senior Nick Loney plays Thorin. "He's the powerful, regal leader of the dwarves," said Loney. "He's smart, clever and almost cerebral; he thinks of things logically and considers himself a king. I love it; I hoped I'd get this role because I felt it fit me well. I enjoy powerful, manly roles and, as the dwarves' leader, Thorin commands respect and attention."
He said audiences will be curious to see how the movie they've seen can be portrayed onstage and what things will be different. "The fight scene with lots of people is always exciting," said Loney. "And the entire show is enjoyable to watch."
Playing Bofur is junior Robyn Smith. "She's a cheerful, motherly dwarf," said Smith. "She just came along for the adventure; she doesn't have a direct tie to Thorin's family. I feel this part was written for me because Bofur and I have the same characteristics—happy and loving life."
Smith's also co-head of hair and makeup and had fun designing each type of character's look. "It was a challenge to find materials for prosthetics and special effects," she said. "Scars, fake ears and wigs are integral to the show."
Junior Emily Bubeck plays Dwalin, a dwarf. "She's focused on getting back the treasure and avenging the dragon, Smaug," said Bubeck. "She's very much a warrior. I have to carry myself differently to portray confidence and speak a little deeper." Overall, said Bubeck, "The audience will enjoy the show's technical aspects, our awesome costumes and seeing the story in a new light."