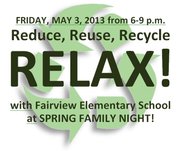 Fairview Elementary School's PTA in Fairfax Station is very excited about its first ever family recycling event being held Friday, May, 3 from 6-9 p.m. on the school's blacktop behind the school. "Reduce, Reuse, Recycle, RELAX!" action begins upon entry where event-goers can donate cell phones, eye glasses, toner cartridges, American flags (for proper disposal) and bicycles for recycling/reuse. Fairview's Watch D.O.G.S. (Dads of Great Students) will be collecting the bicycles and will assist with preparing the bikes for donation for Bikes for the World, a local non-profit. The community is welcome at the event.
Once inside, children and adults will enjoy Appalachian mountain music and BBQ by Red, Hot and Blue ($5-$6 per platter). Everything else at the event comes with the $1/per person entry fee. There will be games provided by Adventure Links, composting demos by Fairfax County, face painting, and inflatables for the young. Dr. Seuss's original cartoon, The Lorax, will be played in the gym throughout the event and children will make Truffula trees to take home. A Children's Book Exchange will be held from 6:30-8 p.m. where participants may bring up to three books to exchange—upon entry a ticket will be given to children participating in the exchange. All children will leave the event with an environmental activity booklet and a live oak tree to plant at home, giving them a way to give back to the Earth and leaving them with lasting memories.
Bikes for the World links suburban garages to remote villages around the globe by "re-cycling" and repurposing bicycles, delivering them to overseas partners who refurbish and channel the bikes to people who rely on them, helping transform their lives. Monetary donations are also accepted, along with helmets, reflective tape and other related items. Donations are tax-deductible. Money donated will help to purchase tools needed in the upkeep of the bikes, allows for their transport, and helps to buy other needed supplies. A $10 per bike donation is suggested but not required to help defray a share of the cost of these items, as well as shipping to overseas charity partners, which recondition the bicycles and distribute them to people who need them to get to work, school, and health services. If you'd like to learn more, visit www.bikesfortheworld.org/who-we-benefit.