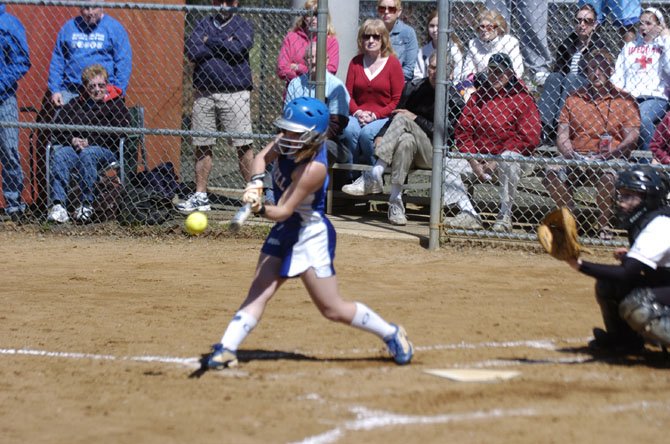 McLean — Bishop O'Connell senior Mary Burk smashed a deep fly ball to center field and headed toward first base during the third inning of the Knights' April 20 contest against McLean.
Burk thought she had hit a home run as the ball sailed through the air. O'Connell head coach Tommy Orndorff also thought the ball was gone. Instead, the wind held the ball up just enough for McLean center fielder Christin Geisler to make a fantastic catch in front of the fence.
"That would have been my first home run over a fence," Burk would say. "She made a great play. It's a tough break."
While Burk had to deal with the disappointment of a tough break, she made sure McLean walked away on the wrong end of a tough loss.
The Bishop O'Connell softball team, ranked No. 2 in the nation by MaxPreps.com, trailed 2-1 in the seventh inning when Burk tied the score with an RBI double to center field. Burk later scored the go-ahead run while a teammate was caught in a rundown between first and second and the Knights held on to win 3-2 at McLean High School.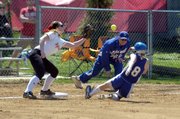 After her long fly out in the third inning, Burk hit the ball in the fifth, but again came up empty when McLean first baseman Grace Henry snared Burk's grounder down the line, robbing her of extra bases. Burk wouldn't be denied in the seventh, helping O'Connell remain undefeated.
"She had a great day," Orndorff said. "She's a nice little hitter."
O'Connell entered the game with a 14-0 record, having outscored its opponents 174-6. For five innings, McLean pitcher Lauryn Hahne shut out O'Connell, limiting the Knights to two hits. Meanwhile, McLean freshman Isabella Norton gave the Highlanders a 2-0 lead with a two-out, two-run double in the third inning.
A two-out O'Connell rally in the sixth cut the McLean lead in half. Right fielder Erin Sweeney and left fielder Jenna Spille produced back-to-back singles before first baseman Olivia Giaquinto delivered a run-scoring double, pulling the Knights within 2-1.
"I think it's important because, really, the bottom of the lineup is what started it," Orndorff said. "The top of the lineup finished it, but we don't get to the top of the lineup if we don't get something in the sixth inning …"
With one out in the top of the seventh, O'Connell third baseman Hayley Metcalf hit a grounder back to Hahne in the circle, but the senior mishandled the ball for an error. Burk tied the score with a double on the next pitch.
"I just knew that she was going to pitch it right over the plate and she did," Burk said. "I just wanted to rip it."
"I wouldn't want to hurt [pitcher Tori Finucane] in any way. I don't want to be Mike Shanahan and RGIII."

— Bishop O'Connell softball coach Tommy Orndorff
Hahne suffered the loss for McLean, allowing three runs — two earned — on six hits while walking three and striking out four.
"As I explained to them, we could have won the game today," McLean head coach Maurice Tawil said, "but we did not because we failed to execute. … [Hahne] pitched great. We did have a plan. We had a scouting report on O'Connell. Obviously they're a very good team and they hit the ball hard. She kept them off balance. Their No. 3 hitter, [catcher Jillian] Ferraro, is as good as you'll see and she didn't hurt us today — and she came up in some big moments, also.
"… We pitched our game plan very well. Unfortunately, [Hahne] hurt herself in the last inning. Otherwise, she pitched fabulously — pitched well enough to win."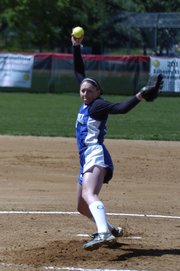 While Hahne pitched well, O'Connell senior Tori Finucane earned the victory despite pitching through back pain. After missing the previous two games due to ailments including a muscle strain and a minor form of scoliosis, Finucane returned to the circle and tossed a complete game against McLean. She limited the Highlanders to two hits and a pair of unearned runs. She walked two, hit two batters and struck out 10 in seven innings.
"I'm not 100 percent right now, I'm still in physical therapy for my back," Finucane said. "I really did not want that to affect me in any way, but it did sometimes. But knowing that [my teammates] had my back 100 percent was awesome. They came in clutch like no other with those hits. It was just an awesome feeling knowing that no matter what my condition, they always have my back."
Finucane is unlikely to bat until she improves.
"I wouldn't want to hurt her in any way," Orndorff said. "I don't want to be Mike Shanahan and RGIII."
Two days later, Finucane threw a no-hitter and struck out 14 during an 8-0 victory against Paul VI on Monday. The Panthers' only baserunner came via hit by pitch.
The Knights defeated St. John's 19-0 on Tuesday, improving their record to 17-0. O'Connell will travel to face Holy Cross at 3:30 p.m. today.
McLean defeated South Lakes 11-1 on Monday and lost to Stone Bridge 11-1 on Tuesday, moving the Highlanders' record to 12-3 overall and 7-2 in the Liberty District. McLean will travel to face Marshall at 6:30 p.m. on Monday, April 29.