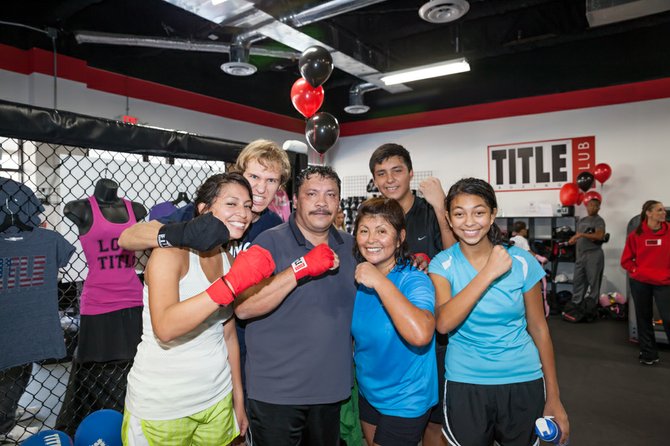 Kate Carski, co-owner of The TITLE Boxing Club of West Springfield, has really been enjoying the benefits of warmer weather lately. She notes that with spring weather have come spikes in business—and they are not limited to the local real estate market. "I think the most notable news in our club this month is a spike in memberships. We feel it's due to the warm weather and people wanting to get that summer body in shape. … another interesting fact is that 20 percent of our memberships are family."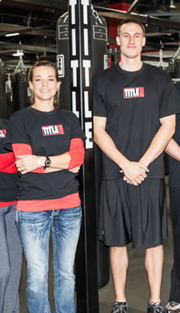 When it comes to kickboxing, families seem to feel there's something for each member, whether older or younger, in the TITLE Club's trainer-led, high-octane classes in which trainers yell out punching and kicking combinations and the class follows together. Families like the Gerardos love the classes and take them together regularly.
The free weekly Tuesday night classes at the TITLE Club are enough to get even the fittest family sweating. The classes, open to the public, are Kickboxing Basics at 7 p.m. and Boxing Basics, at 6:30 p.m. The free night at TITLE Club has featured a self-defense class in the past and Carski says she and co-owner Sam Heaps are planning on featuring the class again.
TITLE Club has been successful enough since opening in October of 2012 at its West Springfield location, 6228 Rolling Road, that Carski and Heaps are opening a second club in Falls Church, near the East Falls Church Metro in fall 2013.
Carski and Heaps opened the club to target those who want to lose weight but quickly tire of typical exercise routines—running on treadmills, elliptical machines and the traditional gym experience. The group workouts at their gym burn between 750 and 1000 calories in one hour and also involve punching a heavy bag—not something to bore gym-haters.
In addition to the "Power Hour" workouts, The TITLE Boxing Club also has free weights, cardio machines, TRX Suspension Training, boot camps, boxing mitt work and self-defense workouts. More information can be found on Facebook at TITLE Boxing Club Springfield VA or at http://www.titleboxingclub.com/springfield-va/class-schedule/.