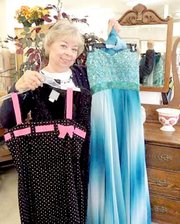 The Lorton Community Action Center will host its annual Purse & Prom Sale starting this Friday, April 26, through Sunday, April 28. Find the perfect purse, prom dress, summer wedding outfit and accessories while supporting a great cause. Whether you are an avid thrift store shopper, a collector, a casual shopper, or living on a tight budget, chances are you will find something at Lorton's Attic. Merchandise changes weekly so stop by on a regular basis to see what's new.
Store Hours:
Friday: 10 a.m.–5 p.m.
Saturday: 11 a.m.–4 p.m.
Sunday: Noon–4 p.m.
Lorton's Attic is located at 9506 Richmond Highway in Lorton.
Questions? Call Lorton's Attic at 703-339-5161, ext. 130. Lorton's Attic is operated by LCAC and serves the dual purpose of providing clothes and household items to the organization's clients, as well as a revenue stream to support LCAC, an independent nonprofit.
The LCAC seeks to provide low-income individuals, senior citizens and families residing in Fort Belvoir, Lorton, Newington and other portions of southeast Fairfax County with access to basic needs and the opportunity to empower themselves through LCAC's self-sufficiency programs. LCAC strives to connect people with other programs in the area that will have a positive impact on a family's long-term "health."

LCAC also helps to prevent homelessness by offering emergency financial assistance for rent or mortgage, as well as utilities.