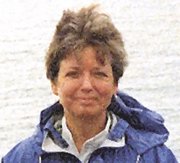 Alexandria — Irene Byrne McAndrew (Prendergast) Collier, of Washington, D.C., died on March 11, 2013, in Richland, Wash., at the age of 73, of natural causes related to dementia and juvenile diabetes.
Irene was married in 1961 to John J. Prendergast of Mt. Kisco, N.Y., with whom she raised five children, in Alexandria, where she enjoyed working as a real estate agent for Hubbard-Dale and Golubin & Warwick.
Her second husband, Robert M. Collier, of Bunclody, Co. Wexford, Ireland, whom she married in 1989, died in 2002. Charismatic, entrepreneurial of spirit, and possessing a sharp sense of humor, Irene loved Ireland, the land of her forebears, and lived there in Co. Cork, where she ran a B&B, a guesthouse, an American-style deli called "The Yankee Clipper," and "Castaways," a curiosity and consignment shop.
Among her favorite things were strong Irish tea, good conversation, antique and bargain shopping, and the social charms of Irish village life.
She also lived for a time in Friday Harbor, San Juan Island, Wash.
Irene was born on Sept. 5, 1939, the oldest daughter of Irene Skelly Byrne, of Waterbury, Conn., and William R. McAndrew, of Washington, D.C. Her late father was NBC News president from 1965-1968, uniting news anchors Chet Huntley and David Brinkley, and her late sister, Mary McAndrew, was a broadcast journalist for NBC News in New York and Chicago. Irene's family moved from D.C. to Bronxville, N.Y. in 1952, where she attended Immaculate Conception, and the Ursuline School in New Rochelle, N.Y., graduating in 1957. She subsequently received a BA in economics from Trinity in Washington, D.C. in 1961.
Irene is survived by her two sons, J.F. (John Francis) Prendergast, and Patrick Prendergast, and three daughters, Mary Prendergast, Kathryn (Katie) Willis, and Ellen Kennedy, as well as 10 grandchildren, one great-granddaughter, and her brother, William R. McAndrew, Jr.
Irene's children are holding a Celebration of Life and Mass on Sunday, April 28, 2013, at 3 p.m., at Holy Family Catholic Church, 14160 Ferndale Road, Dale City, Va., with a light reception to follow.
In lieu of flowers, donations "In Memory of Irene M. Collier" may be made to: The Juvenile Diabetes Research Foundation, http://jdrf.org/, contact Sheila Charles, 1-800-533-CURE (2873), for information.