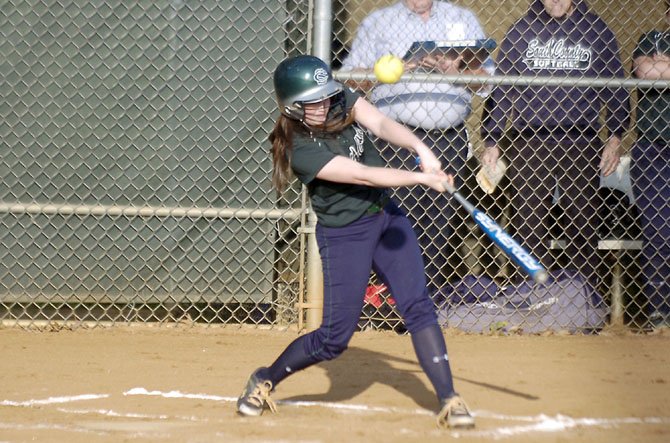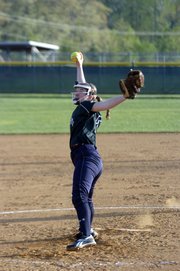 Burke — The Patriot District championship game is nearly a month away, but the South County softball team had something to prove on Tuesday.
Winners of six consecutive district titles, the Stallions entered their latest contest against Lake Braddock looking up at the Bruins in the standings. Lake Braddock, which lost to South County in last season's district final, was undefeated, had outscored its last five opponents 70-0 and beat the Stallions 7-5 during their first meeting this season on April 3.
"We knew," South County head coach Gary Dillow said, "we needed to come in and make some kind of a statement."
AFTER SEVEN INNINGS, the Stallions had sent a message: the path to the Patriot District championship still runs through South County.
Sophomore second baseman Cara Yates went 4-for-5 with four RBIs and junior pitcher Rebecca Martin tossed a three-hitter as South County rolled to a 10-1 victory on Tuesday night at Lake Braddock Secondary School. Yates' two-run triple in the second inning gave South County a lead it would not relinquish as the Stallions drew even with the Bruins in the loss column.
"It just makes a statement," Dillow said, "that we're not ready to let go of the district title yet."
Yates, who batted leadoff for South County as a freshman last season, moved down a spot in the order for the first half of the 2013 campaign, but recently returned to the top of the lineup. She reached base in each of her five at bats on Tuesday, April 23, including four hits.
"When you're hitting one," Yates said, "you know you have to get a hit because as a leadoff hitter, you pretty much determine the momentum of the game, so you have to get it started."
Yates led off the game with an opposite-field single to right. In the second inning, she ripped a two-run triple to center field. Yates singled in the fourth inning, reached on an error in the sixth and hit a deep two-run single to right-center in the seventh.
"She didn't look like a leadoff hitter tonight—she hit at least three balls right to the fence," Dillow said. "She's absolutely seeing the ball great right now and just really driving the ball."
"It just makes a statement that we're not ready to let go of the district title yet."

—South County softball coach Gary Dillow
Junior catcher Haylea Geer finished 2-for-4 for South County. Freshman right fielder Carley Kastner went 1-for-3 with two RBIs, senior first baseman Brittnee Haynes was 1-for-3 with an RBI and freshman left fielder Jade Williams hit a triple.
Martin earned the win in the pitcher's circle, tossing a complete game. She allowed one earned run and three hits while walking two, hitting one batter and striking out four in seven innings.
"She pitched really well," Dillow said. "I think she had something to prove. She didn't pitch real well against them the last time we played. It's probably, really, the first off-game I've seen her have in her three years here."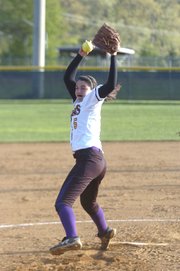 Martin did not allow a hit until the fourth inning, when Lake Braddock sophomore Amanda Hendrix led off with a double. Hendrix also hit a solo home run over the fence in right-center during the sixth inning, and freshman outfielder Danielle Newman had a single.
"We were definitely trying to defend the legacy we have," Martin said about the Stallions' six consecutive district championships.
LAKE BRADDOCK helped the South County cause with six errors.
"We pride ourselves on defense," Lake Braddock head coach George Rumore said, "and [for] some reason, they just got the jitters, I guess, and they couldn't hang in there on defense."
Rumore downplayed the loss, saying it meant "nothing" in the grand scheme of things.
"We just let it go," he said. "We were 10-0 … so we just go 10-0 again. So let's just forget it and learn from our mistakes in this game."
Junior Ashley Flesch started in the circle for Lake Braddock and allowed three unearned runs and five hits in four innings. She hit one batter, walked one and struck out two. Hendrix pitched the final three innings.
Lake Braddock fell to 10-1 overall and 7-1 in the Patriot District. The Bruins will travel to face Lee at 6:30 p.m. today.
South County improved to 12-1 overall and 8-1 in the district. The Stallions will travel to face Lee at 6:30 p.m. on Friday, April 26.