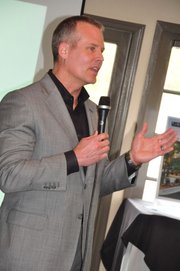 Fitness buffs in Reston will soon have a new state-of-the-art gym to visit. The Life Time Athletic Reston, planned for a September opening, will be one of only 13 "Diamond" level clubs in the country from Life Time.
"We've been in the Virginia market since 2000, and after looking at the demographics of Reston, we think it's a perfect fit for one of our Diamond clubs," said Jeff Zwiefel, executive vice president and chief of operations at Life Time. "We see areas here that fit perfectly well with the full service amenities we offer."
The 114,000-square-foot facility is currently under construction off Sunset Hills Drive between Wiehle Avenue and Hunter Mill Drive. It is scheduled to open in September. The facility will contain indoor and outdoor lap pools, two full-size basketball courts, more than 400 pieces of cardio and strength equipment, as well as steam rooms, a sauna, a spa, salon and a café.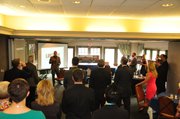 "The idea is, quite frankly, to blow people away," Zwiefel said. "We've tried to think of everything from the equipment and space people need to work out, to a café stocked with foods that will complement the healthy lifestyle, to childcare services and personal spa services."
Zwiefel also emphasized the quality of services that will be offered, from the Ultimate Hoops basketball program, which shows scores, standings and even photos and highlights from recreation basketball leagues, clubs for runners, squash players and other interests, to the rigorous training that the staff of more than 300 will undergo.
"Our general manager will be interviewing every single employee we hire, because we want to start with the best people," he said. "From there, we believe [in] world class programs that we don't think anyone else can replicate in a health club space."
Club staff members say they also hope to take advantage of the building's distance from the W and OD Trail, and the amount of active runners, cyclists and multi-sport athletes in the area.
"This is a growing area, a growing market, and there's a lot of businesses here already, as well as people who are very active and into health and fitness," said Miklos Horvath, who will be the general manager at the new facility. "Our goal is to combine everything under one roof, a gym, a spa, childcare services, sort of like the highest end country club."
Horvath said the club, which is scheduled to open in December, is currently accepting Founder's Memberships and offering virtual tours at the site, located at 1757 Business Center Drive.