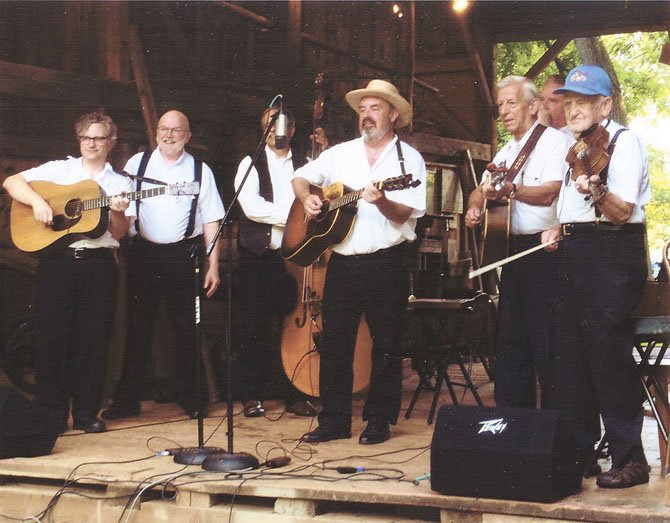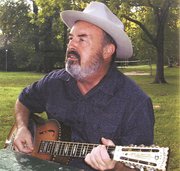 Falls Church — In the workaday world, Andrew Acosta has been a painting contractor for 30 years. During off times, he "paints" stories using traditional music, most often as leader of the New Old-Time String Band.
Acosta has resided in Falls Church since boyhood. At age 13 he took up the guitar, and is self-taught ever since. Neither of his parents, and none of his siblings, save one, was involved with music. The one older brother played in a rock band and there always was a guitar in the home.
Graduating from George Mason High School, Acosta became a fine arts major at Virginia Commonwealth University in Richmond. After a year or so, he transferred to Clinch Valley College — now named the University of Virginia's College at Wise. A significant interruption occurred there, one which likely influenced his future in terms of both occupation and music. A movie company arrived in the area to film "Coal Miner's Daughter," a biography of country musician Loretta Lynn. Acosta was hired as a full-time set painter for the production. All this occurred in a part of Virginia renown for traditional roots music; think Carter Family, Ralph Stanley and the Clinch Mountain Boys.
Promised work as a set painter, bachelor Acosta moved to California. He met a Falls Church girl, married, started a family and decided that "going home" was the thing to do. He does not like traveling. "I am a home boy," he said, which also explains why he does not accept bookings or attend bluegrass music festivals very far away. The summer months find him at numerous park concerts across Falls Church, Arlington and Fairfax. Winter weeks involve practice and development of additional recordings. Year-round performances occur in JV's Restaurant, Route 50 and Annandale Road. Benefit performances are scheduled now and then; the one readily recalled by Acosta was
for Fisher House, a place for families to stay when a member of the military is hospitalized.
The heart of the New Old-Time String Band is made up of Acosta (guitar and mandolin), Bill Taylor of Arlington (bass) and John Kaparakis of Arlington (guitar). The soul of the group is 95-year-old Roy Odell "Speedy" Tolliver, originally from Green Cove in southwest Virginia and the fiddle player declared a 2009 Virginia Heritage Awardee for his role in preserving the Commonwealth's traditional arts and culture. Acosta notes that the band linked up with Tolliver in 2000, and the entire period since "can only be described as 'an honor'." Other musicians round out the company on a come-and-go basis by mutual consent.
Acosta composes tunes with an old-timey flavor and adds lyrical topics that are contemporary, a process he calls "making the old, new." Several works have become local crowd favorites. For example, "Brown's Hardware" recounts shopping experiences lived by almost anyone in the Falls Church-Arlington-Fairfax area. Third-generation "Mr. Brown" still operates the store at the corner of Lee Highway and Broad Street (Routes 7 and 29). Asked about the impulse to compose, Acosta chuckled and called it "mysterious." He never knows what or when he will be moved to write, but he is pleased by the results.
Questioned about other music and musicians in the area, Acosta says he respects the work of Bill Spottswood, bluegrass radio personality/disc-jockey on WAMU 88.5, and of Bill Kirchen, guitarist, singer and songwriter.
Recently, a new opportunity arose. Acosta was approached by an independent filmmaker and invited to write music and appear in a three-part series highlighting historical events and places in Falls Church. The pilot film tells about Cherry Hill Farm. Now in production, all the music is original and by Acosta. He explains the attraction of the project: "Much has happened in our little city over the centuries, yet people walk by sites and are unaware of what took place there. I hope these films find their way into the schools and libraries so that people, especially young people, gain a greater sense of where they are and become interested in the history all around us."
Another example of a willingness to experiment is the recent addition of a harmonica to the string band. "There is no good reason to stick strictly to the name," Acosta said, laughing. "The songs don't change and I just like the sound that the harmonica brings to the music we play."
Although he is one of a trio for appearances at house parties and other smaller events, and plays solo on occasion, the primary performance platform is billed as The New Old-Time String Band with Andrew Acosta. By the way, there never was an "Old-Time String Band" that has become "New"; Acosta muses that "juxtaposition of 'New' and 'Old' just struck me as interesting."
The philosophy behind Acosta's musicianship is simple: "Our traditional music needs to be passed on to another generation. It is something very special, and deserves to be saved. One way to do that is by performing. Some young people will listen and begin playing, and the music will live." To this end, Acosta sometimes accepts one or two students for private lessons.