Fairfax County Police detectives have charged a Fair Oaks woman in connection with an investigation involving fraudulent preparation and submission of income tax return documents. She is Thuy Tien Le, 40, of 12808 Madeley Court.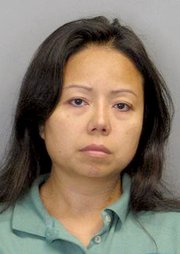 The investigation began in early July when police received a report from a resident that Le, owner of T2 Advantage LLC, a tax preparation company, had prepared their income taxes. That person received the prepared documents, including a statement indicating exactly what federal and state refunds to expect.
Shortly thereafter, say police, the resident "was in the process of refinancing [his or her] mortgage and discovered that the tax documents the mortgage company obtained from the Internal Revenue Service were different than the ones Le provided to [him or her]."
Detectives, working with IRS special agents, determined that Le was allegedly altering the tax documents prior to submitting them to the IRS. They say she reportedly increased the amount of the refunds and had those proceeds electronically deposited into an account other than the resident's.
Police arrested Le last Tuesday, Aug. 6, charging her with one count each of money laundering and obtaining money by false pretenses, plus two counts of identity theft with intent to defraud. She has an Oct. 30 court date. The investigation is continuing and additional charges are possible. Detectives want to hear from any other people who believe they might have been a victim of this type of fraud.
Anyone with information is asked to contact Crime Solvers at 1-866-411-TIPS/8477, e-mail www.fairfaxcrimesolvers.org, text "TIP187" plus a message to CRIMES/274637 or call police at 703-691-2131.