Residents of the region have the opportunity to help non-profit animal rescue organizations, thanks to the Presents 4 Pets Campaign. This multiple location, annual pet supplies drive is sponsored by the National Association of Professional Pet Sitters (NAPPS).Alexandria-based Becky's Pet Care, Incorporated, a professional dog walking and pet sitting company which is a part of NAPPS, teamed up with the Presents 4 Pets Campaign, which launched on July 15. This is the second year Becky's Pet Care has helped to organize the project.
The joint goal for the project is to raise $2,500 and 1,000 pounds of supplies for four local charities: Homeless Animal Rescue Team (HART), King Street Cats (KSC) and Animal Welfare League of Arlington (AWLA).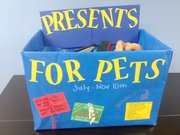 "The project started in mid-July and it runs through Nov. 10 for us," said Becky's marketing manager Kym Laird. "At that time, we will make our final collections from all the places we have boxes set up
and we will distribute to all the benefiting shelters." Becky's Pet Care employees are pleased to give back to non-profit organizations devoted to caring for and finding forever homes for rescued animals. "NAPPS started as a way to bring awareness to shelter and rescue pets, so we could give back to all the volunteers," Laird said. "All of this is non-profit. This is great for Becky's because we are so connected. We are getting supplies over to those volunteers who are always working tirelessly for the animals."She said Becky's Pet Care, which has been in business for 14 years, and all of NAPPS, purposely made the program easy for Northern Virginia residents to access. "There are boxes all over Northern Virginia — in Woodbridge, Falls
Church, Reston, Arlington and Alexandria," Laird said. "We service
this entire area, [from Prince William County to Arlington,] as well andwe want it to be easy to drop off anything."
Angela Meyers, Becky's Pet Care marketing director, said they have
been doing more than setting up boxes to aid in the drives. The marketing department is responsible for spreading the word of the campaign with press releases, event notices and on various social media sites. "We also create partnerships with other pet companies to have many donation collection sites throughout all of Northern Virginia," Meyers said. She added that her department has also organized Restaurant Night events through September to November at various Glory Days and Joe's Pizza and Pasta Place restaurants throughout the area. On the nights of these events, Glory Days and Joe's Place will be contributing 10 percent of all bills to Presents 4 Pets. Laird said she is confident that NAPPS will reach its goal this year, for a multitude of reasons.
"I feel really positive about it because I know that last year we got a much later start and it is nice to have all that time and all the locations," Laird said. "After distributing the boxes, we already had
one location call to say the box was full. We also had a few clients mail in gift cards for the drive." Meyers said she not only believes the campaign will reach the goal, but will collect far beyond the target "This year has started off quite strong," Meyers said. "We are excited and strongly believe this year's final donation will be at least two to three times as much as last year's." She also added that the restaurant Nights will be a major factor in surpassing the campaign's money goal.
Laird said she has a personal connection to King Street Cats, so she knows all that goes into maintaining such an organization."One of the shelters we are working with, King Street Cats, is where I got my cat," Laird said, "so I know that this organization's costs are endless." While Presents 4 Pets is well on its way this year, Laird said they still have a long way to go. She said needed supplies include pet food, leashes, cat litter, cleaning supplies, and money or office supply store gift cards for the maintaining of shelter offices.For more information, visit Becky's Pet Care, Incorporated's official page: http://www.beckyspetcare.com/presents-for-pets/.