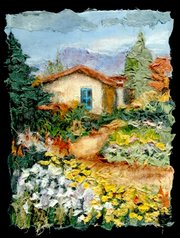 The Great Falls Studios (GFS) artists have put to paper, molded in clay and caught on camera warm sunny days, summer vacations, beaches and boats, butterflies, flowers and abundant greenery. "Simply Summer" at the GFS Virtual Gallery is just a mouse click away: http://www.greatfallsstudios.com/virtualgallery-new.php.
Established in 2003, Great Falls Studios is a consortium of more than 100 artists living or working in Great Falls.
Some of the upcoming events include:
Oct. 5—Great Falls Studios celebrates a decade of art at Great Falls Library, 9830 Georgetown Pike, Great Falls;

On Oct. 19 & 20—Tenth Annual Great Falls Studios Tour;

Dec. 14 & 15—Great Falls Studios Holiday Show and Sale, Wolf Trap/Center for Education, 1645 Trap Road, Vienna.
Great Falls Studios also manages several exhibit venues in the community. The public is invited to enjoy often changing shows at Katie's @ the Old Brogue Irish Pub/760 Walker Road, Great Falls, Seneca Hill Animal Hospital, Resort & Spa/11415 Georgetown Pike, Great Falls and a new space featuring the work of local elementary school students at Starbucks @ Great Falls Center/9862 Georgetown Pike, Great Falls.