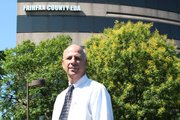 If you are a new resident of Fairfax County, or an employee working for a company new to the county, welcome!
You are in one of the most dynamic communities in the nation. Fairfax County has one of the best-educated and most diverse populations anywhere. We work at companies and organizations that provide critical goods and services to the community, nation and the world. And, we have a cosmopolitan quality of life that features great schools, parks, the arts and libraries as well as quick access to everything that Washington, D.C., has to offer.
You are part of a community that is the economic engine of the Washington metropolitan area and the Commonwealth of Virginia. We work hard to attract and retain the kind of diversified business base that provides high-quality jobs and brings in the best and brightest.
The Fairfax County Board of Supervisors strongly supports this business growth because a strong economic base provides the means to offer high-quality public services for those who live and work here while minimizing the cost of those services for residents. That consistent support means that Fairfax County will continue to be a great place to work and to live for decades to come. Welcome!
Gerald L. Gordon, Ph.D. is president and CEO of the Fairfax County Economic Development Authority.