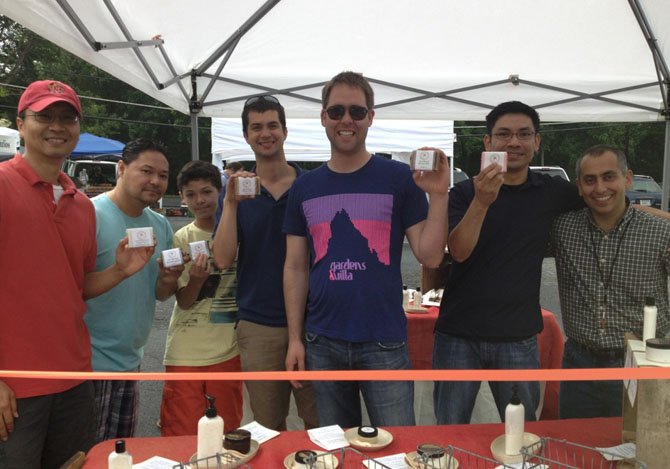 Our local community farmers market has been growing steadily all spring and summer, with more produce vendors, both local and organic; more local farmers bearing meats, fish, cheeses, artisan soaps, etc.; more micro-local vendors who have launched their own businesses to bring their unique offerings to our community; and the Great Falls Historical Society, offering information, membership, publications and programs on local history. In the fall, a community tent will be added and more non-profits will be making their information available to the community on a weekly basis.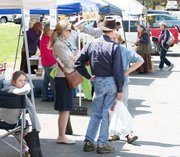 As the reality of our local farmers market has unfolded since its inception in April 2007—a concept that originally emerged in focus groups and our Great Falls 2020 Vision Survey conducted in 2007—its meaning and possibilities have evolved.
The tagline created in a community brainstorm after the survey in 2008, "Great Falls, Treasuring Heritage, Home & Habitat" has been dusted off and applied to the farmers market over the last year, providing an umbrella of purpose…
Treasuring—valuing, cherishing, protecting, caring for—used as a counterpoint to "wealth," often used disparagingly when people refer to Great Falls. We value our local community and work toward a common good.
Heritage points to our roots in a rural, agricultural community—milling, dairy farming—and ties to that past: preserving our village's semi-rural character. Preserving a rural heritage calls for preserving authentic seeds, growing healthy crops, feeding and caring for animals with dignity, protecting honeybees, honoring crafts handed down from generation to generation—being loyal to a connection to the past.
Home captures our village of families—not a collection of mega-mansions. A town becomes a village when there is love, commitment, coaching, mentoring, guidance, including all residents—young and old, healthy and ill, successful and struggling—active concern, tangible support, acting as neighbor within a village family. Making time on a Saturday morning to walk the farmers-market circle, greeting each other, is one expression of a willingness to participate in a community family.
Habitat speaks to a healthy ecosystem for our families and our wildlife neighbors—ensuring that food and water are pure, that there are protected undisturbed spaces to raise our young, refraining from using pesticides on our lawns in deference to the honeybee, using gentle soaps to go easy on our septic systems, composting to minimize waste, gathering rain water or building rain gardens to protect our land from erosion, planting a garden to appreciate the profound abundance of nature.
Saturday, that special time when neighbors gather: Beholding the fruits of our local farmers' labor, appreciating artisan's creations, greeting each other, enjoying community, honoring local. Come enjoy the music and walk the circle…