Whether you're pulling the plane, cheering from the sidelines or racing down the runway in tennis shoes at this year's first-ever 5K, there's something for everyone at the Dulles Day Festival and Plane Pull, benefiting Special Olympics Virginia. Grab your family, friends and co-workers and put your muscles to the test Sept. 14 from 11 a.m. to 4 p.m. at Dulles International Airport.
New for 2013: the Dulles Day 5K on the Runway—runners, joggers and stroller-pushers alike will have the chance to run on the airport's center runway, which will be closed to aircraft during the run. Register online now. Registration is $35 per participant until Sept. 11 (unless all spots are full beforehand). The top male and top female finisher will receive two round-trip tickets on United Airlines, good for any United destination in the continental United States.
After you warm up your running shoes, gather 24 of your friends and flex your athletic prowess against a 164,000-plus pound jet plane. Teams of 25 will compete to see who can pull the plane 12 feet the fastest. Teams must raise a minimum of $1,250—that's just $50 a person—to participate. Threatened by the possibility that a 164,000-plus pound machine will prevail? Have no fear! Prizes also will be awarded to the teams who raise the most money, teams who show the most enthusiasm, the lightest and the heaviest teams, and even the slowest team.
Not quite ready for the plane pull? The Kids Truck Pull provides a fun challenge for our youngest fans to test their strength. Teams of eight will compete to see who can pull the big, red 123JUNK truck 12 feet the fastest. To participate, you must raise or donate a minimum of $10/person. All participants will receive a Plane Pull T-shirt; a prize also will be awarded to the person who raises the most money.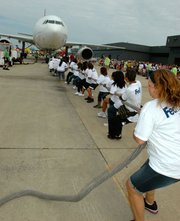 Don't have the muscles to pull a plane or truck—that's OK. You can still join as a volunteer, an event sponsor, an event exhibitor or even as a "fan" of Special Olympics Virginia. The Dulles Day Festival and Plane Pull, presented by the Metropolitan Washington Airports Authority, Cisco and Triple Canopy, also will feature live music, a car show, aircraft displays, business exhibits and a special Kids Zone. There is no charge to enter the festival, although donations are appreciated. All attendees over 18 will receive a door prize ticket for the chance to win a "weighty" prize.
Since the first-ever Plane Pull was held in 1993 at Dulles International Airport, Special Olympics Virginia has raised more than $1.5 million for athletes with intellectual disabilities throughout the state, and also started a worldwide plane-pulling phenomenon. Today, similar Plane Pulls are held throughout the year in Colorado, Maryland, Hawaii, Tennessee and Texas. The Plane Pull is a Law Enforcement Torch Run event; the Torch Run, sponsored by SunTrust and Enterprise, unites law enforcement across the commonwealth to raise funds and awareness for Special Olympics Virginia.
For more information, to register your team, sign up to run the 5K, exhibit or volunteer, or for sponsorship details, visit www.planepull.com or call 703-359-4301.