Patty McAndrews works out with a trainer twice a week at of TRUE Health and Wholeness in Arlington. She found that restarting her fitness regimen about two months ago has strengthened her abdominal muscles and toned her body. A threat to her fitness looms, however: the holidays and the food and festivities that come with them. McAndrews plans to continue her workout schedule to combat the traditional holiday weight gain.
"I am excited about the working out during the holidays because it gives me the freedom to indulge," she said.
From eggnog and chocolate truffles to Yule logs and Linzer cookies, the holidays bring an onslaught of sugar-filled delicacies. Those who find it hard to resist multiple servings of Italian trifle at an office party or chocolate-covered gingerbread men at a cookie exchange might be kicking themselves for overindulging come January, however.
To keep that from happening, local nutrition and fitness experts share their tricks for staying in shape and helping their clients do the same during the sweetest time of the year.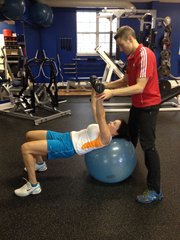 "It is a very hard time of the year, even for me," said Professor Lisa Pawloski, Ph.D., chair of the Department of Nutrition and Food Studies at George Mason University in Fairfax. "Everyone has challenges. There is food everywhere. Office parties are filled with fatty food. There are dishes filled with candy all around the office this time of year."
Pawloski believes bringing calm to the holiday bustle can aid in fitness. "It is important to reduce your stress so that you don't over consume," she said. "Many people react to stress by overeating."
Planning ahead is one strategy to avoid gluttony during holiday gatherings. "Think about nibbling on small amounts of healthy food throughout the day to fill you up a bit instead waiting on a big meal to fill you up," said Michael Nordvall, Ed.D., professor of health and human performance at Marymount University in Arlington. "Take your time while you're eating, chew slowly, eat slowly. The slower you eat, the less food you end up eating because you will get fuller sooner."
Loading up on nutritious nibbles in advance of a big event might make platters of pound-packing fare appear less appealing. "When it comes to holiday parties or buffets, eat something healthy before you go so you're not feeling overly hungry," said Pawloski. "Think about eating protein and whole grains because high-fiber food will allow you to feel fuller for a longer period of time."
"My personal philosophy is for people to enjoy themselves at a party," said Nina Elliot of TRUE Health and Wholeness in Arlington. "Have some of everything, but don't go back for seconds. Don't be obsessed with the food, move through the crowd, focus on enjoying the people who are there."
When faced with a large spread of tantalizing eats, be selective. "You have to ask yourself, 'Is it worth the calories?' Since there is such a variety, being picky is important," said Pawloski. "Go after the food you really enjoy. There is research that shows that when you eat food you enjoy, you secrete more of the digestive enzymes and you absorb more nutrients of those particular foods."
Resist the urge to clean your plate. "Most people will pile on as much food as they can and feel the requirement to finish everything," said Nordvall. "Start with smaller portions."
While libations can add merriment to a holiday party, they can also add pounds. "For the adults, things like alcoholic beverages and eggnog can slow you down, make you drowsy," said Nordvall. "One of the worst things that can happen after a big meal is to fall asleep because your metabolism slows down."
When it comes to sit-down dinners with family and friends, both Pawloski and Nordvall suggest loading up on low-calorie liquids and moving around. "Have water or some broth before you eat a meal," said Pawloski. "That will actually make you feel a little full."
"Going on a walk with your family after a big meal will increase metabolism and help with digestion," said Nordvall.
Elliot even recommends that those concerned about maintaining fitness consider hiring a trainer for the holidays. "Maybe four sessions during the month of December, once a week, for weight training specifically," she said. "Have a session right before a big party where you know there is going to be rich food."
Elliot says that weight training is important to maintaining muscle mass and reducing stress. "Most people can go for a run, but what is often lacking is proper utilization of weights," she said. "People with more muscle mass have a higher metabolism because muscles are energy demanding."
Her husband, Christian Elliot, fellow trainer and co-owner of TRUE Health and Wholeness, said, "One of the great benefits about strength training is how it boosts the client's self confidence."