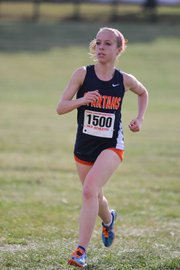 Caroline Alcorta spent most of the VHSL cross country season running on her own, forced to find motivation within as she pulled away from the pack. The West Springfield senior won the 6A girls' state championship on Nov. 15 at Great Meadow with a meet-record time of 17:13, finishing 39 seconds faster than her nearest competitor.
Two weeks later, Alcorta took her act on the road to Charlotte, N.C., for the Foot Locker Cross Country South Regionals. While an increased level of competition closed the gap, Alcorta found herself in a familiar position when she crossed the finish line.
Alcorta won the Foot Locker south regional with a time of 16:55 at McAlpine Creek Park on Nov. 30. Alcorta's top-10 finish earned her a trip to nationals on Dec. 14 in San Diego, Calif.
Alcorta was the only runner to break 17 minutes. Amelia Paladino of Morgantown, W.Va., (University High School) placed second with a time of 17:04. Natalie Rathjen of Dallas (Highland Park High School) finished third with a time of 17:06.
Alcorta improved her time at regionals by 24 seconds. Last year, she qualified for nationals by placing eighth at McAlpine Creek Park with a time of 17:19.
"Last year it was more about … kind of just hanging on with the lead pack as long as possible until I feel off," Alcorta said. "This year … I knew I had to do a lot of the work myself instead of hanging on. … It really helps not worrying about what other people are going to do."
Lake Braddock seniors Hannah Christen and Katy Kunc qualified for nationals by finishing fifth and sixth, respectively. Christen finished in 17:15, with Kunc close behind at 17:16. Christen and Kunc placed second and third, respectively, at the state meet.
In the boys' Foot Locker south regional race, Edison senior and 5A boys' state champion Louis Colson placed fourth with a time of 14:50, earning a trip to nationals. Marshall senior Mackenzie Haight also punched his ticket to nationals with a fifth-place finish (14:51).
"This year … I knew I had to do a lot of the work myself instead of hanging on."

--- West Springfield senior Caroline Alcorta
Aaron Templeton of Knoxville, Tenn., (Hardin Valley Academy) won the event with a time of 14:36.
Nationals will be held Saturday, Dec. 14 at Morley Field at Balboa Park in San Diego, Calif. Last year, Alcorta finished 16th at nationals, one place shy of All-American status. She finished with a time of 17:56.3. Megan Curham of Villa Walsh Academy (Morristown, N.J.) grabbed the final All-American spot with a time of 17:56.
"It would have been worse," Alcorta said, "if I had been a senior and I didn't have another shot at it."
Alcorta has her sights set on a top-15 finish this weekend.
"That," Alcorta said, "would be really nifty."