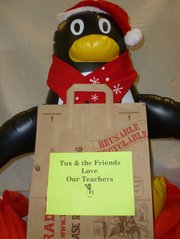 Can the Richard Byrd library mascot, Tux the Penguin, do something special for our local teachers and their students? He thinks so. He talked with the Friends and they have created an event everyone will love - Educators Night - as part of their upcoming sale.
The Friends Huge Used Book Sale is Thursday, Dec. 5 – Saturday, Dec. 7. Since the Friends have 50 percent more books than ever before, in fact not only more books but very good books in condition and variety, why not extend this fundraiser from just raising money for the library to include doing something for teachers.
The idea of Educators Night was born. Teachers from three elementary schools – Crestwood, Garfield, and Lynbrook – have been invited to the Richard Byrd Library on Thursday, Dec. 5 from 4 p.m. to 7 p.m. Each teacher can pick 15 free books for their classroom library in a fun atmosphere of snacks and helpful volunteers. Tux will deliver their bags of books to their schools on Monday, Dec. 9.
All teachers are welcome and while we cannot provide free books, we do have low prices and promise to make each and every teacher feel appreciated.
This effort is being underwritten by Process Point Consulting, Springfield Chamber of Commerce, Above Grade Level and you. Yes, we'll have a jar out at check out if you want to contribute $1 to books for our teachers and community.
Giving has never been as enjoyable. Tux says come shop with us for beautiful bargains all the while helping the library and teachers. Penguins have very good ideas.