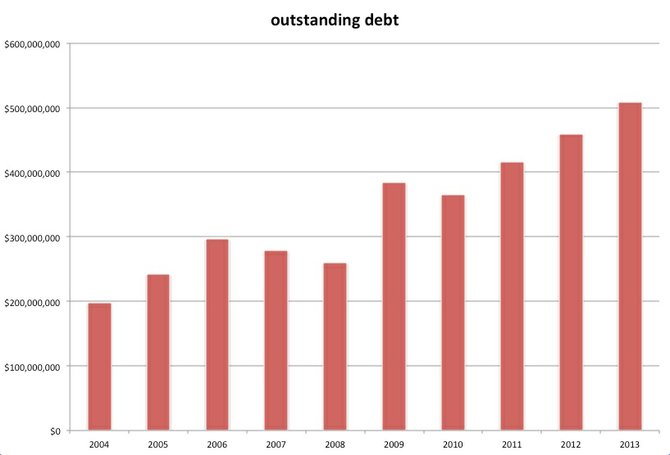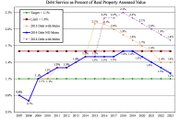 In the last decade, the city's debt has more than doubled from $200 million to more than $500 million — a burden that is becoming increasingly difficult for the city to manage, especially considering plans for Alexandria to finance the construction of a new Metrorail station at Potomac Yard. If city officials decide to move forward with constructing the new Metro station, which could range from $200 million to $460 million, Alexandria will exceed all three of its self-imposed debt limits.
"Their hands are tied in a way, and that's what happens when you run up against those limits, which have served them well for years," said Stephen Fuller, director of the Center for Regional Analysis at George Mason University. "What this will tell them is that they can't do it themselves, and that they need to find a private partner to work with."
According to a recently released comprehensive annual financial report, the city's growing debt is creating an increasing burden on taxpayers. Back in 2004, the city needed $20 million to finance its debt burden. This year, taxpayers are on the hook for $50 million in debt service. As a result, the ratio of debt service to general governmental expenditures has spiked from 3.62 percent to 6.55 percent. And that's a burden that would grow even more if city leaders take the additional debt burden associated with the Potomac Yard Metro station.
"There's a danger if we fall back into another recession, especially if it's primarily led by a mortgage crisis," said Frank Shafroth, director of the Center for State and Local Leadership at George Mason University. "Then suddenly you would see a rapid turnaround in property values, and the assessed revenues coming into the city would decline significantly."
IN THE LAST DECADE, the per capita share of debt owed by every man, woman and child in Alexandria has more than doubled from $1,500 to $3,500. Even with the rise in salaries over the last decade, debt per capita as a percentage of per capita income has spiked from 2.7 percent to 4.3 percent. Critics say the city has been on a spending spree in the last decade, one that has included a $110 million high school and an $80 million police station.
"Do we have to build the Taj Mahal every time we have a capital project?" asked former Republican Councilman Frank Fannnon. "So I'm skeptical we are going to get the return on the investment if we spend $270 million on a new Metro station at Potomac Yard."
For years, city officials have used three benchmarks to analyze the size and scope of Alexandria's debt. One is debt service as a percent of general government expenditures. Another is debt as a percent of real property assessed value. The final benchmark is debt as a percent of personal income. With the Potomac Yard Metro, Alexandria is on track to exceed all three debt limits. Even if city leaders decide against funding the Metro station, Alexandria is facing a future with an unprecedented debt.
"This trend is evident regardless of whether the Potomac Yard Metrorail is included in the calculation, meaning that the city's debt ratios … are worsening," according to the 2013 annual report of the Budget and Fiscal Affairs Advisory Committee. "For the FY2014 budget, BFAAC observes that some of the metrics are now hitting the limits without the Potomac Yard Metrorail Station included."
EVEN WITHOUT adding new debt from the Potomac Yard Metro station, the city still has a massive amount of uncertainty. Spending items that remain off the books for now include borrowing associated with the waterfront plan, the Beauregard redevelopment, potential federal mandates on upgrading the combined sewer system and the six new schools planned by Alexandria City Public Schools.
"There's always some degree of uncertainty when dealing with anything in the future," said Deputy City Manager Mark Jinks in an interview earlier this year. "The real issue with the debt isn't the amount of the debt, it's the fiscal impact of the debt service."
Aside from debt, city leaders are facing other potential problems with the Potomac Yard Metro. A location and design has yet to be selected for the project, which is currently undergoing an environmental impact statement. Leaders at the National Park Service have determined that the proposed Metro station would be visible from the George Washington Parkway, which would violate a scenic easement. That means city leaders will to go back to the drawing board, potentially figuring out a way to move the CSX tracks west or finding some other way to mitigate the scenic easement with trees or landscaping. Longtime supporters of the project are upset that the scenic easement doesn't apply in Crystal City because of an arrangement made many years ago.
"I guess the activists involved in that thought it was a good deal because they were able to get the Crystal City buildings scaled back," said Councilman Tim Lovain. "I guess at that time nobody thought anything would happen in Alexandria, but now it's coming back to burn us."