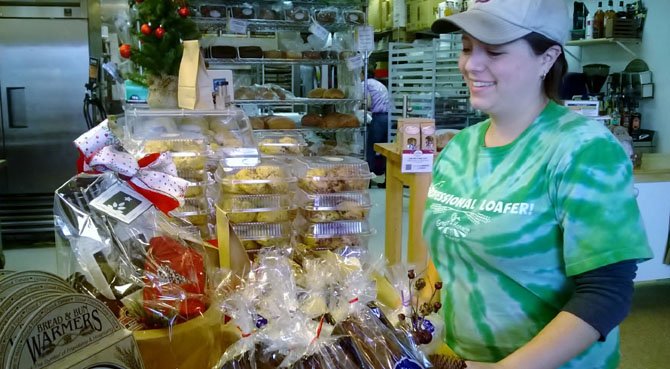 At Great Harvest Bread Company in Burke, customers can eat a freshly made bakery sandwich and complete some last-minute holiday shopping at the same time.
The local bread and other baked-goods company, which also has a location in Lorton, provides a variety of gift baskets and products like baked goods and tea towels for a last-minute holiday shopper on any budget.
According to Jeffrey Connelly, who owns the store with Jeanette Scott Moler, companies often buy employee gifts from Great Harvest Bread Company. Everything at Great Harvest Bread Company is made from scratch, according to Connelly. The ingredients are all-natural and fresh.
Manager Sam Gray said that gift baskets are popular during the holiday season. Gift baskets include the Holiday Joy Basket for $39, which includes a loaf of Honey Whole Wheat bread, the day's specialty loaf, six Great Harvest Cookies and jam.
For those wishing to spend a little bit more, the Basket of Gratitude is available for $80. The basket includes six cookies, a loaf of Honey Whole Wheat, the specialty loaf of the day, including a dessert loaf, granola, a bread warmer, jam and whipped honey, a tea towel, and a bread knife.
Customers can order pre-made gift baskets or create their own. At the store, shoppers can pick a gift bag and add in items of their choice. "We are pretty flexible," Gray said.
Great Harvest Bread Company recognizes that people may want to give their products as gifts and offer a holiday gifting guide for customers who may need some ideas. The guide includes the list of baskets and some gifts under $25, which includes a $15.95 Breakfast Blend that comes with wheat pancake mix and a $24.95 Coffee Break Bliss package.
Catering is also available, as well as shipping, which can be ordered online. 6030-G Burke Commons Rd. Burke, 703-249-0044