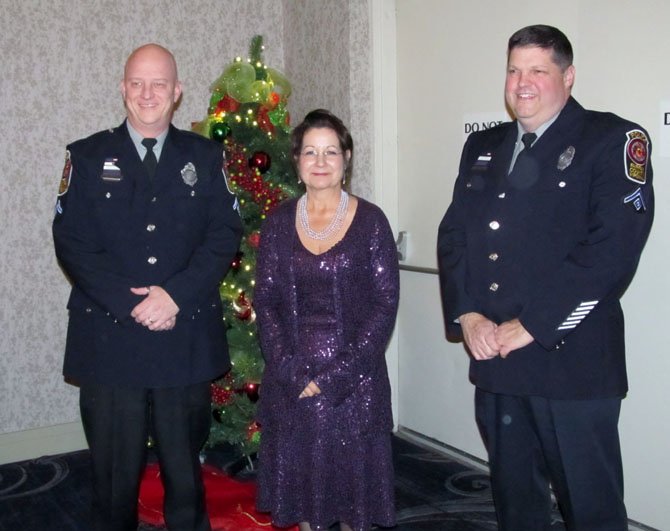 Public servants and civic activists were recognized at the Lee District Association of Civic Organizations' 58th annual Lee District Banquet on Dec. 11 at the Springfield Hilton.
Master Police Officer Jim Reid, Master Police Office Greg Kottemann, and Leah Lamba-Skidmore were presented awards at the banquet.
Reid and Kotteman received the Les Dorson Distinguished Public Service Professional Award. Reid runs the Franconia Station neighborhood watch program and coordinates the area's National Night Out, a crime and drug prevention event. Kottemann has served in the Fairfax County Police Department for 24 years and is now the crime prevention officer for the Mount Vernon Station.
"I just wanted to tell you how much of an honor and privilege it has been for me to work in the community that I grew up in," Kottemann told the audience.
Lamba-Skidmore, who served as chair of the Lee District Land Use Advisory Committee, received the Les Dorson Citizenship award for her service on the committee.
Fairfax County Police Chief Edwin Roessler, Jr. was the guest speaker at the event and spoke about crime in Fairfax County, as well as the department's efforts to keep up with the urbanization of the area.
"Thank you very much for what you do for your police department, and to help me as your police chief, to do our job efficiently and effectively," Roessler said.
Lee District Supervisor Jeffrey McKay (D) also delivered remarks at the banquet.
"My job is a lot easier because of the civic activism of so many of you, and you do it because you care," McKay told the audience.
According to Jane Hilder, chair of the LDACO, the association received a donation from Springfield Town Center to help cover the cost of the banquet.
"We were thrilled to get that and I just really think this is an exciting time to be living here. We've already seen a lot going on in the Kingstowne area and a lot is starting to happen along Route One. It is interesting to watch," Hilder said.
Connie Beatty was recognized for being one of the original homeowners in Rose Hill. Beatty has lived in Rose Hill since 1954.