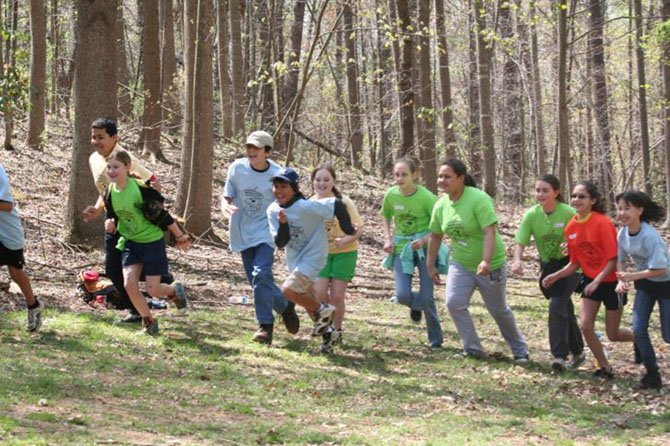 The Dominion Foundation's grant of $10,000 to the Northern Virginia Regional Park Authority will allow for children from local elementary and middle schools to attend field trips at Hemlock Overlook Regional Park in Clifton as part of the Field Trip Grant Program.
"They go and spend the whole day in this beautiful wooded park with lots of fun activities, and at the end of the day, the culmination is the zip line through the forest," said Paul Gilbert, the NVRPA executive director. "You're literally going through the canopy of the trees. It's just a lot of fun."
The Field Trip Grant Program helps schools that have higher percentages of subsidized lunches because those schools are more economically challenged and have difficulty sending their kids on field trips, Gilbert said.
"With budget cuts over the past few years, a lot of schools have less transportation money. One of the things about our grant program is we'll select a school and give them $1,000 to help offset their cost. They can apply it to transportation or to the per child fee for the field trip. We try to make it as flexible and easy to use as possible," said Gilbert.
According to Gilbert, Hemlock Overlook features team-building exercises, as well as environmental education that aligns with the Virginia Standards of Learning.
"Just last year, we helped about 750 kids go through this program through this grant. That's just through the grant. About 10,000 kids a year go through the Hemlock Program," Gilbert said.
The donation helps NVPRA's larger goal of getting more children and families outdoors.
"There's been a big movement to get more kids engaged with nature outdoors. That's what this effort, Nature Nuts, is about. We set a goal of having half a million kids in Northern Virginia to have a meaningful outdoor experience through the regional parks over a five year program," Gilbert said.
According to Brian Bauer, the marketing and communications administrator for NVRPA, getting kids outside can be difficult, especially with modern conveniences like iPhones and video games.
"Based on jobs and hours and traffic and everything else, it's hard to get kids outside. Especially this time of year, when we get home at night, by the time we get in our parking space, it's practically dark," Bauer said.
Gilbert said that giving kids more unstructured time outside can be good for their imagination and creativity, and can build confidence.
"I think because of society and technology and the rest of it, we have to be intentional about getting kids involved with nature. With just the Hemlock experience, if kids go and have this wonderful and positive experience, running around the woods and doing fun things, they are going to remember that forever," Gilbert said. "You build your mind, your body, and everything else in the process of these outdoor experiences."
According to Gilbert, the recession may have drawn more people into NVRPA parks.
"Our camping and picnic reservations and water park attendance have been increasing quite a bit. People have been finding our parks, enjoying them and using them more than ever," Gilbert said.
Although Bauer and Gilbert recognize that it may be difficult for parks to compete with electronics, the benefits of being outdoors are worthwhile.
"Just go visit a park. Take your kids to the playground, or take them for a hike on a trail," Gilbert said.
Carolyn Moss, the managing director for state and local affairs for the Mid-Atlantic Region for Dominion, said that Paul Gilbert's leadership of NVRPA is exceptional. Moss said they chose to support NVRPA because their environmental education programs reach a large number of children.
"We look forward to support them for many years to come," Moss said.