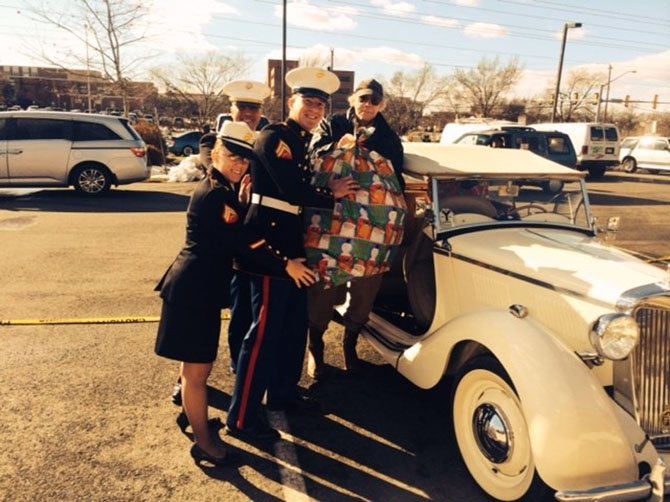 Implementing an idea from Phil Williams of the Clifton-Hoadly-Area-Pancake-Society, Gary Binge (president of the Kena Shrine Antique Car Club in Fairfax) and Clifton's Jim Chesley co-chaired the first annual NoVA Cruise & Collection of Toys for Tots.
Then they held a gathering of car enthusiasts, Dec. 15, at the Juke Box Diner in Manassas and donated toys they'd collected for the U.S. Marine Corps's Toys for Tots program. Marine representatives from the base at Quantico met them at the diner and received 13 boxes of toys.
"I want to thank all the businesses and organizations that helped us in this endeavor," said Chesley. "Many thanks, as well, to the U.S. Marines for giving hope and putting a smile on so many young faces."
Participating were: Virginia Tire & Auto, CC Hair Salon, Sears Hardware, the Clifton-Centreville Animal Clinic, the Clifton Store, La Bella Luce, Clifton Presbyterian Church, Cupcaked, Clifton Cleaners, The Wine Shop, T & K Treasures, Clifton-Hoadly-Area-Pancake-Society, McCabe's Printing, Clifton Fire Station 16, Sully District Police Station and Governmental Center, West Springfield Police Station and Governmental Center, Northern VA Electric Cooperative (NOVEC) and the Juke Box Diner.