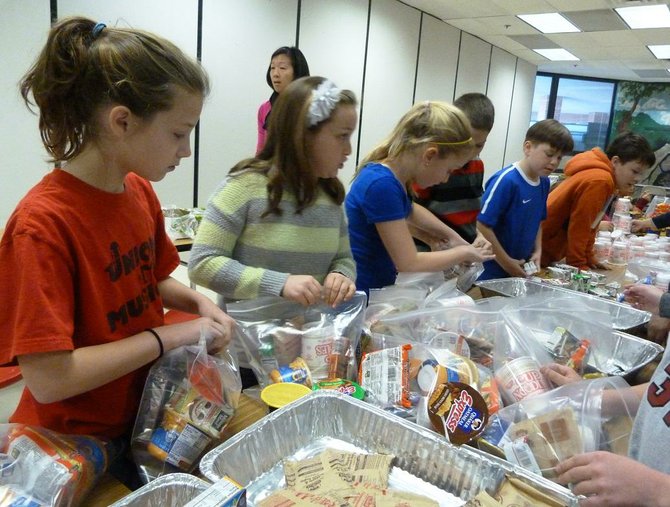 Fifth-graders from Union Mill Elementary assembled 248 Weekend Power Packs for FCPS students who would not otherwise have meals to eat on weekends. On Wednesday, Jan. 23, the entire fifth grade, along with teachers and parent volunteers, packed single-serving, kid-friendly food items such as macaroni and cheese, pasta, soup, fruit and pudding cups, breakfast bars, oatmeal packets, and cheese and crackers, into large re-sealable plastic bags.
Photo Gallery
"Weekend Power Packs"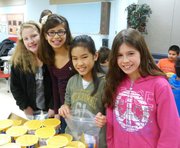 Click Photo for Flash
Each Weekend Power Pack contains enough food for two breakfasts, two lunches, two dinners, and two snacks. Union Mill volunteers delivered the Power Packs to Food for Others, located in Fairfax. Food for Others will distribute the Weekend Power Packs to FCPS students in need of weekend meals. Every month at Union Mill, each grade level takes its turn in holding a two-week food drive for single serving, kid-friendly food items. The students then gather in the cafeteria to put all of the food into the weekend packs, which are then delivered to Food for Others.
To date, Union Mill students have assembled and donated more than 1,030 Weekend Power Packs, well over the school's initial goal of 750 for the year. Union Mill students will continue to assemble the Weekend Power Packs through the end of the school year. Upcoming dates are as follows: fourth-graders are scheduled to assemble Power Packs on Wednesday, Feb. 20, and first-graders will put together Power Packs on April 17.