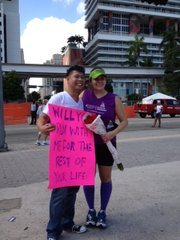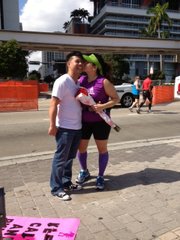 Burke resident Jessica Puentes was crossing the finish line of the Miami Marathon for the Leukemia and Lymphoma Society when she saw her boyfriend Vic Nguyen holding up a sign that read "Will You Run With Me For The Rest Of Your Life?"
Puentes said "yes," and Nguyen slipped a ring on her finger. Puentes was already running with special meaning in mind when Nguyen popped the question. She had chosen to run the race in honor of her aunt, who was diagnosed with non-Hodgkin's lymphoma three years ago and was recently cleared of the disease.
Puentes ran as part of the Team and Training program through the National Capital Area Leukemia and Lymphoma Society (NCA LLS). Through her work with Team in Training, Puentes has already raised over $3,700 in honor of her aunt.
For more information about the Team in Training Program, www.teamintraining.org/nca.