Great Falls Studios Artist Christin Boggs will present a selection of images from her series Ag fás, March 1-31, 2013, at Katie's Coffee House, The Old Brogue Irish Pub, 760 Walker Road in Great Falls, 703-759-3309.
The artist traveled to Ireland during the summer of 2011 as a visiting artist at Cow House Studios—a teen art program and artist residency located on a working farm in Wexford. She lived on the farm for the majority of the summer, working with the students in the art studio. Boggs also traveled to Dublin and out to the West Coast. While in residency, she used her camera to observe quiet moments in a new landscape, impressed by the raw strength and vitality of the land. Some images come from the Cow House vegetable garden. Other images were taken in Dingle, Cape Clear Island and the Aran Islands.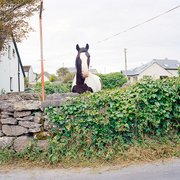 Christin Boggs explores traditional and recently developed urban food practices, with an emphasis on ecologically beneficial growing systems. Her photographs have been displayed nationally in solo and group exhibitions, in both traditional galleries and public spaces, as well as print and online publications. She holds an MFA in imaging arts from Rochester Institute of Technology and a BFA in art and visual technology from George Mason University. Boggs is currently a professor of photography at George Mason University and George Washington University.