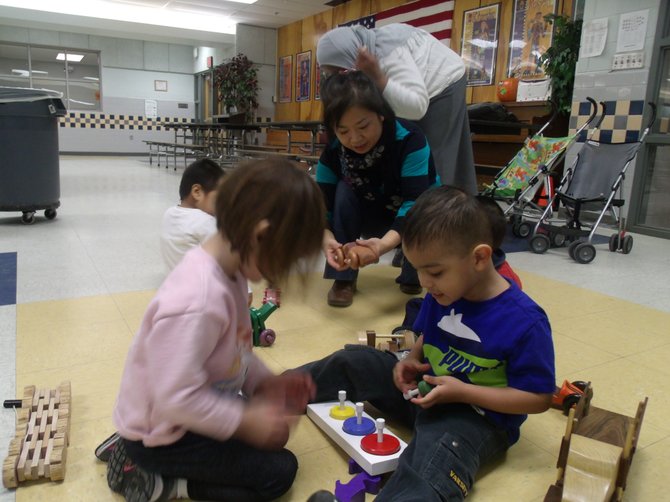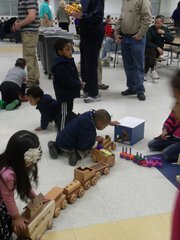 It was a day filled with fun and excitement for preschool children of Forest Edge Elementary School on Tuesday, Feb. 19, at the school's main cafeteria. The occasion was the presentation of about 50 hand-made wooden toys to the children by members of the Reston Community Center's Good Neighbors, a senior adult volunteer woodworking group.
Summing up the occasion, Martha Furniss, a school staff member, described it as "definitely a bright spot on a wintry school day." Also speaking, Walter Lazear, one of the organizers and a member of the group said, "we enjoy the woodworking and we enjoy using tools, but the goal is to see the kids play."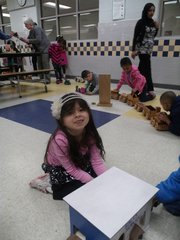 The RCC's senior adult volunteer group consists of 15 members, who meet every Tuesday at the RCC woodshop to design, construct and decorate wooden toys for local children to cherish and enjoy.
According to Walter Lazear, materials like wood and tools are donated by people within the area, while members come up with design ideas on what toys to build. The toys produced are donated at similar events once or twice in a year to elementary schools in the area. He stated that interested adults, who must be over 55 years, can walk-in and join the group on Tuesdays at the Reston Community Center.
The Reston Community Center, the main supporter of the group, provides more than 2,000 positive self-development experiences that enhance the quality of life for all people living and working in Reston. The center offers a range of programs in arts, aquatics, enrichment and lifelong learning. Contact: www.restoncommunitycenter.org or call 703-476-4500 for more information.
More like this story