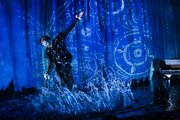 With more than 2,500 gallons of water and a lot of creativity, Arlington's Synetic Theater transforms its Crystal City stage into Prospero's magical island in "The Tempest," the ninth production in the groundbreaking theater's Silent Shakespeare series.
Written by William Shakespeare in 1610, "The Tempest" is set on a remote island, where Prospero, the rightful Duke of Milan, plots to restore his daughter Miranda to her rightful place. Using illusion and skillful manipulation, he conjures up a storm, the eponymous tempest, to lure his brother Antonio and the complicit King Alonso of Naples to the island. There, his maneuverings bring about the revelation of Antonio's deceitful nature, the redemption of the King and the marriage of Miranda to Alonso's son Ferdinand.
Directed by Synetic's Founding Artistic Director Paata Tsikurishvili and choreographed by co-founder Irina Tsikurishvili, Synetic brings the enchanted island to life in a romantic drama that features drunken fools and lithe lovers contorting and cavorting with passion in a production that is pure visual poetry.
Philip Fletcher stars as Prospero, with Irinka Kavsadze as Miranda, Ryan Tumulty as King Alonso and Scott Brown as Ferdinand.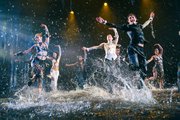 Each night the Synetic stage is flooded with water for the performance, with the first three rows of the audience designated the "splash zone." Audience members seated in that area will be provided with ponchos.
Anastasia R. Simes is the talent behind the innovative set and costume design, with original music composed by Konstantine Lortkipanidze and lighting by Andrew F. Griffin.
Founded in 2001 by the husband and wife team of Paata and Irina Tsikurishvili, Synetic Theater fuses drama, movement, acrobatics, dance and music into a unique and physical theater art form with productions for all ages.
"The Tempest" is playing now through March 24 at Synetic Theater, 1800 S. Bell St., Arlington. For tickets or more information, call 800-494-8497 or visit www.synetictheater.org.