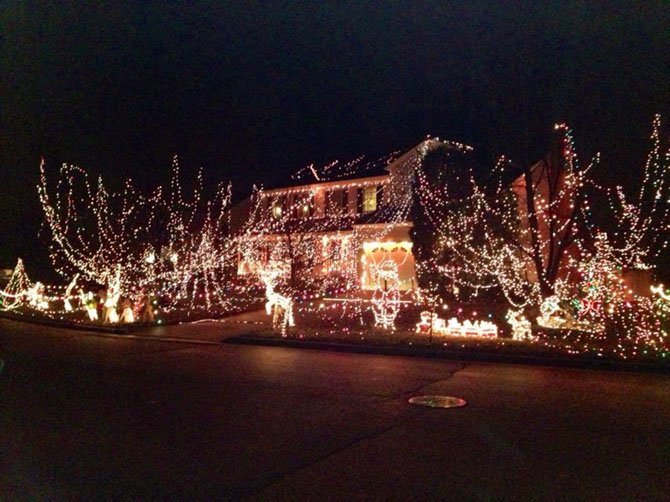 It's not nice to steal — and it's especially not nice to swipe Christmas decorations from an outdoor display that brings pleasure to many people. But that's what happened recently in a Little Rocky Run neighborhood.
Anton Bestebreurtje and his family have lived there 25 years and, each Christmas, they've turned the outside of their home into a holiday extravaganza.
"We've got about 30,000 lights and 31 or 32 three-dimensional, lighted lawn ornaments — some of which are animated," said Bestebreurtje. "They include nine penguins, two trains, Santa, a skater, several reindeer, a moose, a cow holding a gift aloft and a snowman with its baby."
The display has become so famous that it's included on a local, Christmas-light Web site and it's grown every year. Visitors flock to the home on Stonehunt Place to gaze at its sparkling delights.
"Jake, my son, has grown up in eager anticipation of Christmas annually, so we can go visit the 'Crazy House' — his nickname for the place," said neighbor Karen Fulkerson. "I believe Anton does it for sheer love, tradition, and knowing how many people enjoy his work."


Bestebreurtje and his wife have two grown daughters — 2000 Centreville High grad Katie, now married and living in San Diego, and 2004 Centreville grad Lindsey, working on her Ph.D in history at GMU. And each year, the girls give their dad new lawn ornaments for the display.
"This year's gifts were a pair of white dogs that looked like Labradors and had blinking white lights," said Bestebreurtje. "They were 30 inches tall, with red collars and Santa hats."
He put out his massive, holiday display in early December, giving the dogs a place of honor on the curb, between the driveway and mailbox. He anchored them to the ground by stakes in the grass.
"Everything looked great," said Bestebreurtje. "We get quite a bit of traffic, especially as people have learned about our display from www.fairfaxchristmaslights.com."
It takes him about 160 hours to put up and take down all those lights and decorations. But what makes it all worthwhile, he said, is "the reaction of the small children who see it. They love it, so I get a lot of enjoyment out of that. In fact, years ago, I received a crayon drawing of my home and lights with a child's scrawl saying, 'Thank you.' I have it framed and hanging in my office."
This year, however, a Grinch struck. Sometime during the early morning hours of Dec. 29, thieves yanked the dog decorations out of the ground and swiped them. So Bestebreurtje posted signs — telling what was stolen and giving his phone number — on stop signs in half of his neighborhood. "I asked people to keep their eyes and ears open and call me if they knew anything."
So far, the dogs haven't been returned, but the incident has provided unexpected — and most welcome — benefits. "One mother came to the house with her three little girls to say how sorry they were that the decorations were stolen," said Bestebreurtje. "And they told me how much they'd enjoyed my lights."
Another neighbor came by with a tin of homemade, chocolate-chip cookies and a card signed by about a dozen neighbors, expressing the same sentiment.
So, said Bestebreurtje, "I've lost a couple of Christmas ornaments, which can be replaced. But the winner in this was me because I got this outpouring of concern and affection from my neighbors."
"The people who took the decorations are the losers," he continued. "You've just got to feel sad for people who'd entertain themselves by stealing Christmas ornaments."