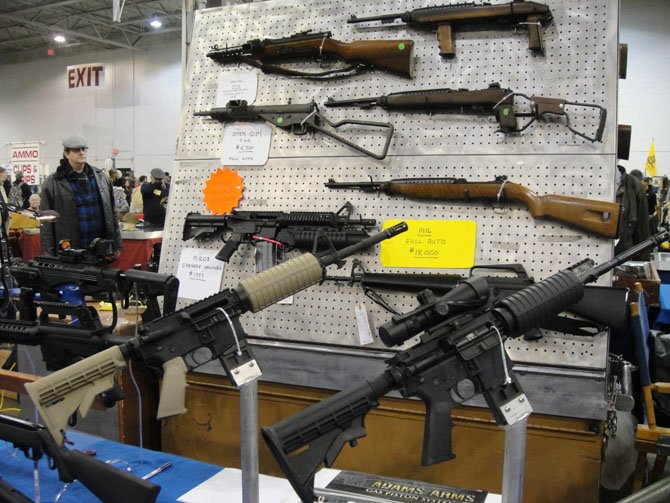 Legislators will be dueling over guns this year at the Capitol, with gun-rights advocates set to oppose efforts to close Virginia's gun-show loophole. Alexandria state Sen. Adam Ebbin (D-30) and Arlington Del. Patrick Hope (D-47) have introduced legislation that would require a background check for every gun purchase. That includes the 40 percent of current gun sales that take place in a private transaction, which do not require any kind of background check to be conducted on the individual purchasing the weapon.
"The current laws are like Swiss cheese," said Hope, who sits on the Militia, Police and Public Safety Committee. "We can't have nearly half of all gun sales in Virginia subject to background check and the other half absent any regulation."
Gun advocates fear that background checks are a slippery slope. Organizations such as the Virginia Citizens Defense League argue that increased registration could lead to confiscation, a threat that motivates advocates for gun rights to oppose efforts to increase background checks. In a perfect world, argues League president Phillip Van Cleave, all background checks would be eliminated — regardless of whether the sale is private or not.
"The truth is it's easy to get around a background check. You simply send in somebody with a clean record to do a straw purchase," said Cleave. "I certainly don't want to see more background checks, and I'd be just as happy with fewer."
THE POLITICS OF GUN REGULATION have become much more pitched in recent weeks, after a gunman blasted his way into a Connecticut elementary school and killed 20 children and six adults. Both sides of the gun debate responded by doubling down on its previous position. Those who support gun rights argue that schools should have armed security guards. Those who support increased gun regulation have been arguing for increased screening and background checks. Historically, Virginia has been hostile to efforts to increase gun regulations.
"There's an urban-rural disconnect about gun rights, and that split defines politics in Virginia," said Kyle Kondik, analyst with the University of Virginia Center for Politics. "I just don't see a lot of potential traction for gun control legislation, especially given the makeup of the House of Delegates, which is so overwhelmingly Republican."
That means Northern Virginia Democrats who support increased gun control have a seemingly intractable goal — persuading conservative members of the General Assembly to change their minds on one of the most emotional issues of the day. Even if they are not successful in session, though, Northern Virginia Democrats can campaign on the issue later this year, when every member of the House of Delegates will be up for reelection.
"I think the tragedy in Newtown will change the politics of all gun bills," said Ebbin. "Whether or not particular ones will pass is hard to determine, but I think we will see a serious consideration of many more gun bills this year."
VIRGINIA HAS STRONG LAWS protecting the right to carry and use guns, a tradition that dates back to English common-law instituted when the commonwealth was a British colony. The Brady Campaign to Prevent Gun Violence gives Virginia a score of 11 out of 100, describing the commonwealth as having "weak gun laws that help feed the illegal gun market, allow the sale of guns without background checks and put children at risk." But many Republicans say no change to the law could have prevented the mass shootings that happened.
"Just because you pass a law doesn't mean you're going to stop it. I mean, there's millions and millions and millions of guns in America," said Del. Dave Albo (R-42). "So when somebody wants to pass a law that says no one can have a gun, does any rational person think that would work?"
One issue that comes up again and again each year is the so-called "castle doctrine," sometimes known as "stand-your-ground" legislation, that would protect individuals from being sued if they fatally shoot an intruder. That hasn't passed, but other measures increasing the availability of guns have been successful. One overturned a longstanding ban against individuals purchasing more than one handgun a month. Another successful bill allows local government employees to bring concealed weapons onto government property. A few days after the Connecticut shooting, Republican Gov. Bob McDonald suggested that policymakers should consider allowing armed guards in schools across Virginia.
"What an absurd idea," responded Arlington state Sen. Barbara Favola (D-31) in a written statement. "We must seize this opportunity to craft reasonable gun violence prevention measures and to help those with mental illnesses. This is the only way to honor the victims of the Sandy Hook Elementary tragedy."