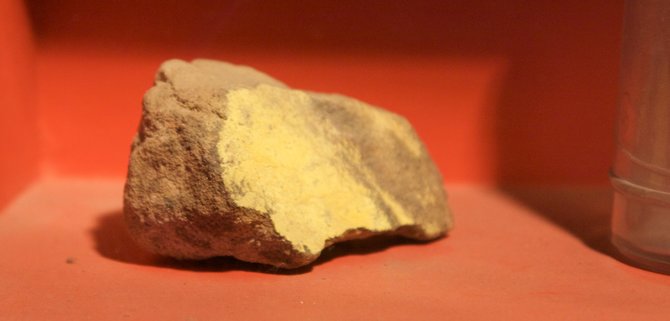 Northern Virginia may be hundreds of miles away from the Southside community where a family business is seeking to overturn a longstanding ban on uranium mining in Virginia. But the toxic politics of uranium is red-hot throughout the state as members of the General Assembly arrive in Richmond this week.
Days before the opening session, the Virginia Coal and Energy Commission voted in favor of moving forward with mining for the metallic chemical element, a process that produces a radioactive byproduct known as tailings. Critics say they are concerned about what might happen in the long term, 100 years from now when the tailings are still radioactive but the underground storage facility might leak into the groundwater.
"What about 10,000 years from now? I'm not going to be here," said state Sen. Dick Saslaw, a Fairfax County Democrat who serves as minority leader in the Senate. "I can't ban something because of something that might happen 500 or a 1,000 years from now."
The Northern Virginia delegation is split, with Saslaw playing an important role as the party's senior leader in the region. Meanwhile, many other members remain undecided swing votes. Although Republican Lt. Gov. Bill Bolling has announced his opposition to uranium mining, Republican Gov. Bob McDonnell has yet to take a position because he's waiting for a socioeconomic report his task force requested. Business-friendly Democrats such as state Sen. George Barker (D-39) say they are still reading the reports and digesting information.
"Clearly, some of the concerns have been addressed with the proposal to put it all underground," said Barker. "Whether that's adequate to resolve it, I don't have an opinion on that yet."
MOST OF THE DELEGATION from Northern Virginia is strongly opposed to overturning the ban, which has been in place since 1982. Earlier this week, a group of 50 municipalities and groups across Virginia announced the formation of CommonwealthHealthVA.org, which includes the cities of Norfolk and Virginia Beach as well as the Southern Environmental Law Center and other groups that have previously stated their opposition to uranium mining.
"There's a big division within the business community about whether this is a good thing or a bad thing," said Sen. Barbara Favola (D-32). "Those that are involved in tourist-type activities do not believe that removing the ban is a good thing."
Supporters of uranium mining say burying the waste in Pittsylvania County is a reasonable compromise to allay concerns about contaminated groundwater. But opponents fear that the technology is still emerging, and they don't want legislators gambling with the health of millions of people. If the groundwater in Pittsylvania is contaminated, opponents fear, people downstream in the Hampton Roads area might suffer.
"Whether stored underground or above the ground, it's still going to be Virginia's taxpayers' responsibility for literally thousands of years," said Olga Kolotushkna, a Fairfax County woman who serves as an advisor to the Federal Energy Regulatory Commission. "That waste remains toxic for thousands of years."
THE ISSUE PITS economics against environmentalism because lifting the ban would add jobs and economic development to a struggling part of the state. A recent study from the George Mason Center for Regional Analysis at George Mason University concluded that overturning the longstanding ban would bring more than $1 million to Pittsylvania County, adding about 2 percent to the county's revenue base. The study concluded that the net fiscal benefit would be equivalent to a reduction of 4 cents on the tax rate.
"There are only 300 jobs generated," said Favola. "And I have to believe over time that many of those jobs would be automated."
The ban was enacted in 1982, and supporters of allowing uranium mining say technology has progressed enough to allow for the safe storage of the radioactive byproduct. Legislators on both sides of the issue say they have already been heavily lobbied on the issue, and billions of dollars are at stake for the Coles family, which has owned the farmlands for generations. In the past year, the business venture formed by Chatham-based Walter Coles has invested $147,000 in the George Mason study and pumped more than $52,000 into campaign coffers of General Assembly members throughout the state.
"They still have to go through five years of a permitting process if we do lift the ban before they can turn the first shovel," said Saslaw. "So I think that there are more than enough safeguards."