Professional Lifestyle Innovations LLC (PLInnovations), a local health and fitness company, is expanding its services to Fairfax County, specifically to serve new customers in Fairfax Station, Clifton and Lorton. Based out of Stafford, Va., the company recently launched its new website, www.plinnovations.com. PLInnovations' website allows clients to purchase and download fitness plans designed for personalized, in-home fitness training.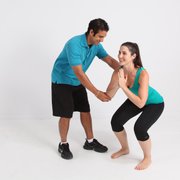 Alberto J. Medina, husband of Fairfax native Elise P. Medina, created PLInnovations in response to a local demand for just this kind of in-home training. Medina began with just three clients five years ago, and since that time has served dozens of clients in the Northern Virginia area.
Medina hopes the website will allow them to connect with individuals beyond the Stafford area. PLInnovations offers Skype training for clients on vacation or traveling for work and offers program through their website to get customers started on eating healthier and exercising.
The Express Plan, a step-by-step program to get users off the couch, is a simple workout plan to show new customers how to get started and what the company is about. Medina says that simple does not necessarily mean easy, though: the plan self-adapts to meet customers' fitness level and goals.
For more information on PLInnovations, go to www.plinnovations.com or call 540-220-6077.