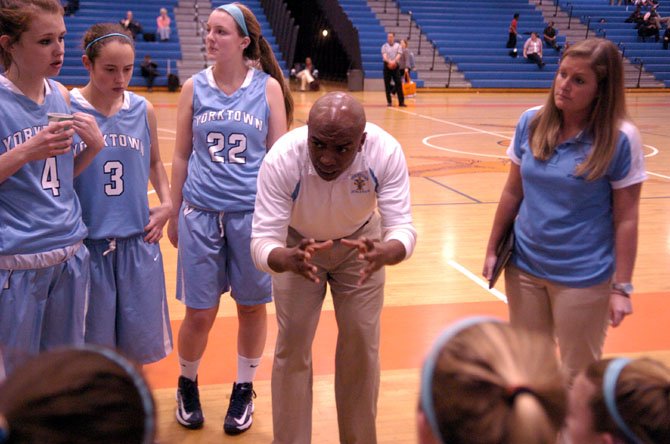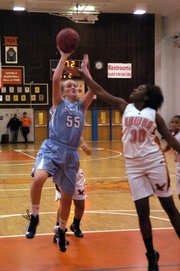 Alexandria — With a young roster and two key athletes missing from last year's team, Yorktown head girls' basketball coach Devaughn Drayton chose defense and rebounding as the Patriots' focal points for the 2012-13 campaign.
After limiting Hayfield to five field goals during the first 25 minutes of Monday's contest, it appears Drayton chose a successful path for the Patriots.
Thanks to a stingy defensive effort, Yorktown defeated Hayfield 44-33 on Jan. 14 at Hayfield Secondary School. The Patriots held the Hawks without a field goal for a 15-minute stretch spanning from the second quarter to the fourth. Meanwhile, Yorktown turned a three-point halftime lead into a double-digit second-half advantage and improved its record to 5-9, including 4-3 in the National District.
"For a little while now, we've been searching for some type of identity; something we can put a stamp on," Drayton said. "Because offense can go up and down, it's a much safer bet to focus in on rebounding and defense, especially when the game matters the most. That re-emphasis on defense and rebounding the basketball across the board, but especially when the game's on the line, I think has really paid dividends in the [five] wins we've been able to [get]."
Drayton was an assistant on last year's Yorktown team that finished district runner-up. This year's team is without the services of guard Mikayla Venson and forward Hayley Molnar, both of whom opted not to play basketball for Yorktown during their junior seasons, according to Drayton. Venson, who missed most of last year due to injury, was one of the nation's top-ranked players in the class of 2014. Molnar's focus is volleyball.
"I think we did a really good job playing defense. I think we really got after it."

— Yorktown freshman Alison Criswell
"We were sad they left, but we're focusing on who we have on the team and what we can do with who we have," sophomore forward Ellen Nye said. "If they don't want to play, they don't want to play and we're not concerned about that. We just play our Yorktown game and we continue to work as hard as we can and just try to do as good as we can no matter who's on the team."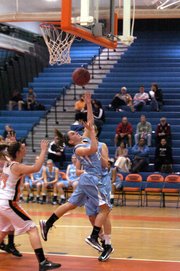 Nye and freshman guard Alison Criswell are two reasons Yorktown has a winning district record. Nye is a versatile 5-foot-11 athlete who can score in the paint or from the perimeter. She finished with 13 points and 12 rebounds against Hayfield. Criswell scored a game-high 17 points. She also showed versatility, knocking down jump shots and attacking the rim.
"Ellen has a unique skill set because she has the ability to play inside and outside," Drayton said. "It gives us an advantage because we have faith that if there's a big guarding her that she can pull them away from the basket. That helps out a player like Alison. If there is somebody that is small on her, she has the ability to go inside and force the defense to be able pinch down and then that opens up someone like Alison."
Seniors Johanna Eisenberg and Tierney Patton, and junior Rachel Logue each scored four points for Yorktown. Senior Norah McDonald added two.
Sophomore guard Raven Lott led Hayfield with 15 points.
Yorktown led 17-14 at halftime, but pulled away by outscoring Hayfield 11-1 in the third quarter.
"I think we did a really good job playing defense," Criswell said. "I think we really got after it."
Yorktown will host Edison at 7:45 p.m. on Thursday, Jan. 17.