Treating sprained ankles, separated shoulders and aching backs are everyday occurrences for Fairfax County Police Department's athletic trainer Nancy Burke.
Burke serves a vital role for the agency in keeping over 1,300 Fairfax County Police officers in top form despite the tough physical toll the job can have on one's body.
"Obviously physical fitness is critical for those in public safety; whether they are chasing a suspect in the dark or helping lift a person out of a wrecked car, it is a very physically demanding job," Burke said. She added, "It's extremely rewarding to be able to help treat and educate officers on how to get healthy, stay healthy and get them back to duty after they've had an injury."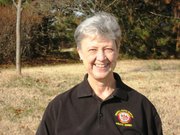 Burke's efforts are now being widely recognized as she has been tapped for the 2013 Virginia Athletic Trainers' Association (VATA) Hall of Fame. The VATA is an organization dedicated to the health and well-being of Virginians who are physically active and this is the third year for the Hall of Fame selection process.
Burke began her career as an athletic trainer in a secondary school setting after graduating from James Madison University in 1973. After earning her Master's Degree from Eastern Kentucky University, she continued her career in Fairfax County. Her expertise in sports medicine is nationally known as she served as the head athletic trainer for World Cup Sabre Fencing in 1992 and 1994, a site medical director for the Atlanta Olympic Games in 1996, and chaired the U.S. Lacrosse Association Safety Committee, where her contributions helped result in the mandate of protective eyewear and new safety standards for goalkeepers' helmets.
For more information about the Fairfax County Police Department's programs or personnel, contact the Public Information Office at 703-246-2253.