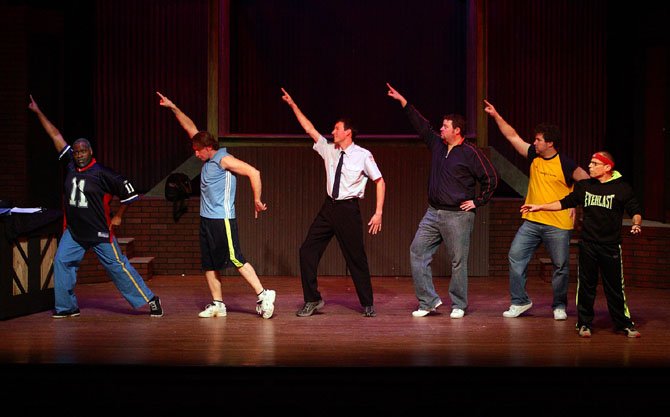 Alexandria — The year is 1992 and unemployment is high in Buffalo, N.Y., where former millworker Jerry Lukowski hatches a plan to earn some quick cash by producing a Chippendale's-style strip show in "The Full Monty," now playing at The Little Theatre of Alexandria.
The cleverly written and composed musical comedy by Terrence McNally and David Yazbek is directed by Frank D. Shutts II, who has cast wisely and well for the LTA production of the 2001 Drama Desk Award winner for Best Musical.
"This is not about T&A," Shutts said following the Jan. 12 opening night production. "It's a love story about six guys that you want to root for."
With an energetic and appealing cast, the heartwarming story of six unemployed men who form an exotic dance troupe for a one-night only, no-holds barred strip show is buoyant and sensitive while keeping the same bawdiness that made the original 1997 film such a success.
"Never in a million years did I think I would be taking my clothes off in front of 200 people," said Christopher Harris, who plays unemployed Dave Bukatinsky. "But this is such a heartwarming story and the audience is always cheering us on. It's really been such an amazing adventure."
In the pivotal role of Jerry is James Hotsko, with Michael Gale, Malcolm Lee, Keith Miller, Jack Stein and Harris rounding out the "Hot Metal Boys," as they have come to call themselves. Collectively, they form a formidable team with the young but versatile Colin Cech as Jerry's son Nathan.
Jennifer Strand rocks the role of the droll, D-list piano pro Jeannette, who joins the act and draws blood as well as laughs with her razor sharp assessments of her amateur colleagues.
Other notable performances are turned in by Amy Conley as Pam Lukowski, Cara Giambrone as Georgie Bukatinsky and Annie Ermlick as he hot-blooded Vicki Nichols.
The commanding score is under the capable baton of Christopher A. Tomasino with particular kudos to the horn-driven charts. Highlights include "Big Black Man," delivered with panache by Lee, "You Rule My World" with Harris and Stein, and the poignant "You Walk with Me" with Miller and Gale. As expected, the finale of "Let It Go" brings the audience to its feet.
(Spoiler alert: The playful choreography by Ivan Davila does include limited male nudity.)
The final moment before the lights dim is not hard to guess — a theatrical triumph for the stellar actors and the entire cast and crew of The Little Theatre of Alexandria. Without a doubt, you have to see it to believe it.