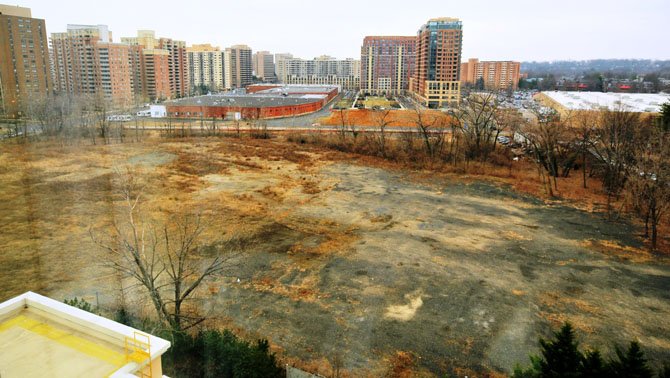 Arlington — South Arlington citizens told two members of the Arlington County Board on Wednesday, Jan. 23, that they oppose a plan to build a 300-foot tall building near the Pentagon and they think county officials conducting hearings on the proposal are favoring the developer Vornado/ Charles E. Smith.
Despite the two-year effort of the residents to get attention to concerns with the size of the buildings, the density being sought by Vornado and a planned 2,235-space parking garage that would induce 6,800 car trips a day on streets already clogged by traffic, Vornado has made no consequential adjustment of its plan, members of the audience said. It has also offered no amenities to the South Arlington community where parks and children's play areas are needed.
There have been some 16 public meetings with Planning Commission subcommittees as the plan has been evaluated and discussed, the latest in early January. The proposal could go before the Arlington County Board as early as March. The county residents said they are not allowed to talk at these meetings and are told that they can make their feelings known later.
Both J. Walter Tejada, chairman of the board, and Mary Hughes Hynes, seemed taken aback by the fervor of the audience. Tejada said the length of the review period was of concern, but the "process" would allow for citizen input later on.
Almost immediately a condo resident of the area, Dennis Miller, attacked the process. He said that there are people on the planning subcommittees "who feel that even though Vornado bought the property under zoning that existed, they feel now constrained that they have to agree with Vornado." He said the subcommittees seem unwilling to get Vornado to make significant changes. He said they seem to think "that they have to reach approval with Vornado because they and Vornado have to agree at the end of the process. I'm sorry that's not how it works. They bought the plan under zoning they agreed to when they bought it." The standing room only audience of some 200 residents broke into sustained applause.
Miller said that there is already terrible traffic impact from the Mark Center built on Seminary Road in Alexandria that may not be corrected for three to four years. "Now we're getting a Mark Center in our own neighborhood?" Again there was a round of applause. Several other residents said the planning review committees "do not represent our interests."
Another resident said he was a member of a focus group that was paid by Vornado several years ago to evaluate its plan. He said the group told Vornado they hated the whole plan. "Where is the university, where is the zoo," they asked and suggested Vornado give them a "blank piece of paper" and "we will tell them what we want."
Later, when Hynes explained that Vornado could contribute money to the building of the county's Long Bridge Park and "transfer" density to its buildings on Army Navy Drive, the audience reacted angrily. "It is no secret," she said, "that PenPlace has been talked about as a receiving place for that density." She said Vornado can "buy" density from other places, "potentially Long Bridge Park."
Stanley Morrison, who said he had lived in South Arlington for "74 of his 76 years," called the notion that the "county was selling density" from Long Branch Park which county voters were building with a bond they supported "despicable … that's very close to bribery." He drew overwhelming applause from the audience.
IN SEPTEMBER 2010, Vornado/Charles E. Smith filed a plan with the county to build 1.9 million square feet of office, hotel and residential space called "PenPlace" on a 9.2 acre lot on Army Navy Drive across from the Pentagon. The lot had been vacant for some years and was often the site for circuses and horse shows. There is a Marriot Residence Inn at one corner of the site. This is one of about a dozen development projects proposed or underway in South Arlington.
The current zoning regulations limit the height of office buildings outside of Crystal City to 12 stories, or about 150 feet tall. But the Vornado plan is seeking a zoning exception for four buildings with at least two buildings to be 300 feet or 22 stories in height. This would be about twice as high as the Marriott Inn next door and would become the highest buildings in South Arlington.
The residents in the area said this is a violation of earlier plans designed specifically to protect their homes and community from erosion by offices' commercial activities.
Later, the residential portion of PenPlace as moved south to MetPark partially owned by Vornado, which left PenPlace an office and hotel complex.
Mitch Bonanno, senior vice president for development at Vornado, said, "You want to put your density in walking distance to a Metro, a VRE line, a transit line. This site is also proximate to 395; to HOV lanes" and later will be served a street car system now being planned by the county. He acknowledged that the extraordinary view of Washington from the site is good selling point to prospective tenants and said the greater height allows more ground space, as well.
A far as height goes, he said, Vornado's plan "is in the context of what has already been approved for that area." He said that a 20-story building has been approved for a site two blocks from Vornado and "we are just a little bit taller."
In the summer of 2008, the county approved a site plan for Pentagon Centre, to build a 20-story office building, an eight-story office building and a seven-story above ground parking garage. These buildings would rise on a 16-acre site which now houses Costco and several other tenants. The main building will rise over the Pentagon City Metro Station. Costco has years to run on its lease for part of the area and the project is expected to start in phases. It is owned by Kimco Realty Corporation of Bellevue, Washington
The Vornado plan has been designed to allow flexibility for a variety of tenants, including those with security requirements, Bonanno said. Up to two of the buildings could accommodate GSA/DOD anti-terrorist standards including 82- foot "set backs" from the street. But Bonanno said Vornado has no tenants for the project at this time and until the tenant's needs are known specific details of the security planning cannot be completed.
It is also seeking 2,235 parking spaces and Arlington County estimates 6,800 daily trips to and from the site by car. The site is near several transportation services including Metro stops at Pentagon City and Crystal City; the Virginia Railway Express which stops in Crystal City, bus service, and major roads including I-395, RT 1, and RT 110 which will handle the vast majority of such trips.
In the intervening two years, the proposal has been opposed on several issues by the two main homeowners groups in the area: the Arlington Ridge Civic Association (ARCA) and the Aurora Highlands Civic Association, which represent some 5,000 residences and thousands of apartment dwellers. ARCA has said Vornado's effort to increase density rules would allow Vornado to build other high-rise buildings on the River House site which it also owns. ARCA has printed signs opposing PenPlace which are displayed on hundreds of homes and apartment in South Arlington and has issued news releases and distributed thousands of neighborhood alerts about the project.
Vornado is the largest owner of commercial properties and office buildings in Arlington County and has major holdings in Roslyn and Crystal City.
Vornado/Charles E. Smith is a division of Vornado Realty Trust, which is a New York real estate investment trust (REIT) with a portfolio of 100 million square feet of offices, commercial buildings and residual sites, according to its website.
Vornado's holdings in South Arlington are the product of purchase and acquisition rather than development. The PenPlace lot is part of an acquisition of land belonging to the Cafritz Family, a major real estate enterprise in Washington from the1940s through the 1980s. This gave Vornado the River House residential complex to the west of Pentagon City and building sites south of PenPlace.
Vornado's acquisition of Charles E. Smith made it the major commercial land owner in Crystal City with 24 separate buildings.