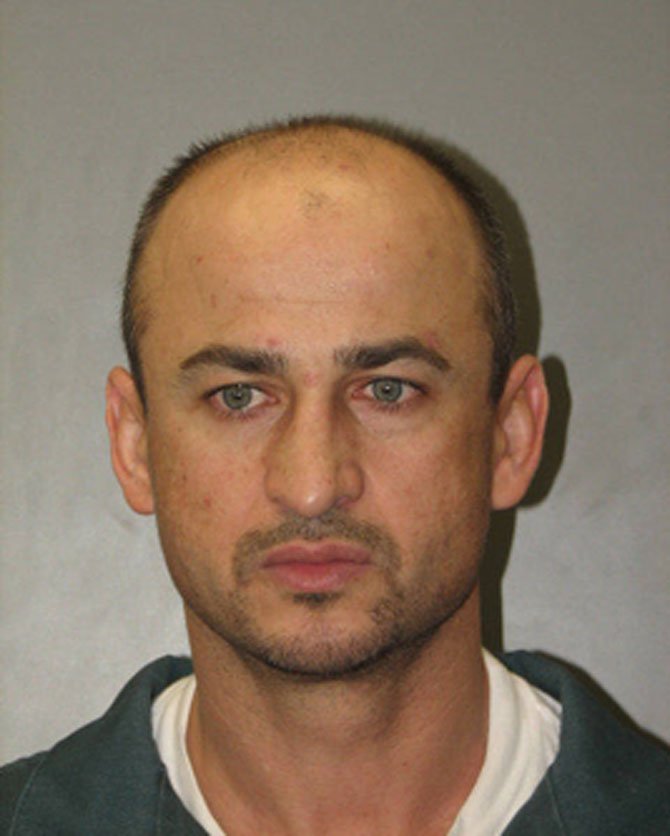 Centreville — ATM Skimmer Suspect Arrested
Fairfax County police detectives on Monday arrested a man in connection with the skimming of ATM cards at bank machines at local hospitals. He is Ioan Cicio, 39, of George C. Marshall Drive in Falls Church.
Cicio was charged with three counts of possession of credit-card forgery devices (skimmers), three counts of credit-card theft, two counts of credit-card fraud and one count of money laundering. The investigation is ongoing and there may be more charges, plus additional arrests.
Police tracked down Cicio after he was allegedly identified in surveillance video linked to a compromised ATM card belonging to the Fairfax City Local 2702 Fire Association in September 2012. With help from detectives from the Fairfax City Police Department and the U.S. Postal Service, the card was tracked purchasing gift cards from a Home Depot in Falls Church and then used to buy custom-made carpeting and high-end faucets.
Detectives executed a search warrant at the suspect's home, Jan. 24, and recovered items including skimmer devices, cameras and computers. They then arrested Cicio, Jan. 28, around noon. Police had received reports from more than a dozen victims who may have had their bank cards compromised at hospital ATM machines in recent months.
Lt. Tony Matos, supervisor of the Fairfax County Police Financial Crimes Unit said financial crimes are on the rise. Last year, the public reported almost 3,000 cases over the agency's Financial Crimes electronic reporting site. The site's used to report cases of identity theft, embezzlement, credit card theft and fraud, plus construction and check fraud.
Food Donations for WFCM
Western Fairfax Christian Ministries' (WFCM) food pantry urgently needs donations of spaghetti sauce, canned fruit, rice (2-lb. bags), canned pasta, peanut butter, canned tuna and meat, hot and cold cereal, fruit juice, and pancake mix and syrup.
Beginning Monday, Feb. 4, bring all items to WFCM'S new food-pantry location at 13888 Metrotech Drive, near Papa John's Pizza and Kumon Learning Center, in Chantilly's Sully Place shopping center.
Free Carseat Inspections
Certified technicians from the Sully District Police Station will perform free, child safety carseat inspections Thursday, Feb. 14, from 5-8:30 p.m., at the station, 4900 Stonecroft Blvd. in Chantilly. No appointment is necessary. But residents should install the child safety seats themselves so technicians may properly inspect and adjust them, as needed.
However, because of time constraints, only the first 35 vehicles arriving on each date will be inspected. That way, inspectors may have enough time to properly instruct the caregiver on the correct use of the child seat. Call 703-814-7000, ext. 5140, to confirm dates and times.
Give Caregivers a Break
Fairfax County needs Respite Care volunteers throughout the county to give family caregivers of a frail older adult a well-deserved break. Volunteers visit and oversee the safety of the older adult for a few hours each month. Volunteers are matched with families in or near their own neighborhoods. Support and training is provided. Contact Kristin Martin at 703-324-7577, TTY 711, or Kristin.Martin@fairfaxcounty.gov
Meals on Wheels Volunteers
Fairfax County needs Meals on Wheels drivers in Chantilly and group Meals on Wheels coordinators in both Chantilly and Fairfax. Contact Volunteer Solutions at 703-324-5406, TTY 711, VolunteerSolutions@fairfaxcounty.gov or visit www.fairfaxcounty.gov/dfs/olderadultservices/volunteer-solutions.htm.
Women's Self Defense Program
The Fairfax County Law Enforcement Foundation is partnering with the Fairfax County Police Department to offer the Women's Self Defense Training program. It's based on the SAFE program formerly provided by the Police Department, but now being taught by C&J Security Corp.
The program is a two-day class that will meet on consecutive Tuesday and Thursday evenings from 6:15-9:30 p.m. It's currently offered free and all class materials are included. Program funding is provided through the Fairfax County Law Enforcement Foundation.
The course is offered to females, age 13 and older. A female guardian must accompany girls 13-18. No men other than the instructors are permitted to be present during a class. For more information, call 703-246-7806, e-mail WSD@fairfaxfoundation.org or go to www.fairfaxfoundation.org.