Politician. Noun: a person who is professionally involved in politics, or a person who acts in a manipulative and devious way, typically to gain advancement within an organization, as defined by Oxford. Mayor Jane Seeman, from the Town of Vienna, is not a politician, at least not in the current form of the word. She doesn't seek to be a politician either, but instead wants to redefine the word and the meaning behind it. She wants to make government accessible to her citizens, and wants to give power back to the people who should be making decisions for her community: not the politicians.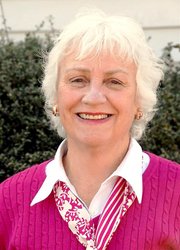 Sitting not behind a desk, but in a comfortable, inviting chair, the mayor said, "My first goal when I got elected was to make politician a nice word, not a dirty word. I am not a politician. We do not run on parties here in Vienna. We run as ourselves." She added, "My overriding goal is to make the government communication more accessible to the person—to bring the public more in tune with what we are doing here."
Seeman's government experience began in 1996, when she was appointed to Town Council after her husband's passing, but her contributions to Vienna go back to when she was simply a citizen of the town. She has volunteered for 3,000 hours at the Patrick Henry Library, was the chairman of the Community Enhancement Commission, is a member of Historic Vienna, and participates in the Rotary Club of Vienna. In 1997, she received the Vienna Toastmasters Community and Leadership Award, and in 1999 she was named Citizen of the Year by the Vienna Times and Vienna Chamber of Commerce, in addition to receiving the Rotary "Service Above Self award."
Although Seeman's husband was a councilman, she never expected to one day run for mayor.
"My husband had died in '96 so they appointed me to council to fill out his term. I had gone to some of his meetings before, so I knew what it was all about. I liked it and it seemed like a good fit for me. In '99 the mayor got very ill and died. Before he died, however, he came to me and said 'I think you should run for mayor.'"
SEEMAN RECOGNIZED that running for mayor, let alone winning, would be a huge responsibility. At first, she didn't quite know what to do, but after long deliberation, she decided that serving her town was how she wanted to spend the rest of her life.
"It was like a huge rock came down on me, I mean, I could barely breathe. I went for some long walks, talked to my pastor, and finally told myself 'If you really want to see the town go, then you should step forward. If you don't, then you step back and let someone else to it, and they may not do it right.' It was very, very scary."
As proven by six re-elections to the office, citizens of Vienna do believe that Seeman is "doing it right" as mayor.
One reason Seeman receives this praise is because of her active involvement with her community and the hard work she puts into being a mayor every day. A typical day, for her, can be hectic and extremely busy.

"I come to the office in the morning, so from nine to 12 I'm always here. Then I go home and usually spend afternoons at home or running errands. There are also usually meetings at night. Last night I went to the government center for the board of supervisors meeting. They were voting on something about Tysons [Corner] and I am very involved in that, so I got there at 4:30 and their meeting was at eight. If there is a scout group that wants to meet with me, I come out in the afternoon and meet with them because I love meeting with kids."
Mayor Seeman, or simply Jane, is not always performing mayoral duties, however. Many residents view government officials, such as councilmen, governors, senators, and mayors as unreachable and obsessed with what they do. That isn't (always) the case, however. The stereotype that people in these offices have no personal lives is simply false. The mayor does go home and she does participate in activities unrelated to her job. She always has work to do, but also finds time to squeeze in some alone time to relax.
"A lot of times there are things I have to do for council [on the weekends]. There is homework to do because we get our packet for the Monday meeting on Friday afternoon, so I have to prepare for the meeting. There are also ribbon cuttings and other functions to go to, and occasionally the Vienna band or another group may want me to come to their concert. There's always something to do, so you're never really off. Somebody may say, 'Oh I want to talk to you about that pothole' and I say 'Okay, I'm here, that's what I do.' When I go home I like to read and garden: kind of solitary things. There are a lot of family things that happen on the weekend too, such as basketball games the kids are in, for example."
TALKING TO CHILDREN is her favorite part of Vienna.
"I think in this area especially, people think of the mayor or the governor or the president as someone who is in this unattainable office whom they can't relate to. I just like the kids to know that I answer the phone and I answer emails. I am a regular person and you will see me around town. I don't have a driver or security or anything, so I like to bring the government down to their [the children's] level."
For someone who has devoted her life to making the Town of Vienna the best it can possibly be, one has to wonder, why would she run for mayor seven times in this small town for a yearly salary of just $6,000?
"I just love Vienna," she says.