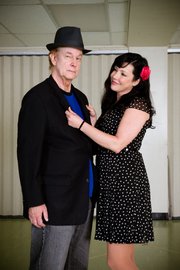 Lamenting about the World Series prospects of the local professional baseball team? How often have you thought to yourself, "I'd sell my soul for a long ball hitter?"
Well, the McLean Community Players (MCP) are bringing the next best thing: "a grand musical comedy" that tries to answer what happens when the wish to have a long-ball hitter is granted, said Pamela McCormack, co-director of "Damn Yankees."
"Damn Yankees" won multiple Tony Awards for its original Broadway production, including Best Musical. It was based upon the book by Douglass Wallop "The Year the Yankees Lost the Pennant." It was written when New York City was the center of the baseball world, the Yankees the cream of the American League and often enough the World Series winner and the 1950's era Washington Senators were rarely a top rung team.
The musical's score by Richard Adler and Jerry Ross includes over a dozen Broadway show tune standards such as "(You Gotta Have) Heart," "Whatever Lola Wants," "A Little Brains, A Little Talent," and "Two Lost Souls."
The storyline centers upon a middle-aged fan named Joe Boyd who is disappointed by his team. With the intervention of a slick salesman-like incarnate of the Devil named Mr. Applegate, Boyd is transformed into a young phenom. He helps his team win while battling a temptation, a temptress named Lola. The true love of his life, his wife, waits for his return.
With a cast of 25, the production's co-director, Kevin McCormack, spoke of his "love for large scale musicals." The musical director is veteran John Edwards Niles fronting a nine-member orchestra. Choreography is by the experienced hoofer Kathleen McCormack.
The cast includes Tim Adams as the young Joe Hardy, alter ego of the older Joe Boyd character. Adams is a Herndon High and George Mason University graduate. The older Boyd is played by Hans Bachman, D.C. area theater veteran with Barbara Cobb-Jepperson as Meg, wife of older Joe. Mike Baker, featured in MCP's production of "Man of La Mancha," takes on the role Applegate.
Lola is played by Annie Ermlick (Centreville), who has worked professionally in New York City theater. In an interview, Ermlick mentioned she wanted the role since it provides an opportunity "to do comedy, to dance and sing and have a fun time."
"We are keeping it fun and lively for the audience," added Pamela McCormack.