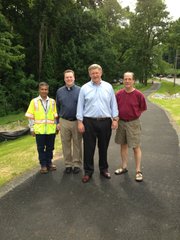 Residents of McLean are now enjoying a new asphalt trail, along Lewinsville Road between Scotts Run and Windy Hill Roads in McLean. Supervisor John Foust (D-Dranesville), community leaders and Fairfax County Departments of Transportation and Capital Facilities staff dedicated the new trail at an event held on June 24 at the corner of Scotts Run and Lewinsville Roads.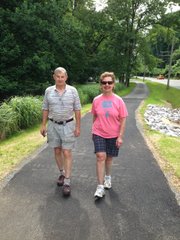 This segment is one of the final missing links needed for continuous trail along Lewinsville Road between Spring Hill Road and Dolley Madison Blvd. The last missing segment, between Elsinore Avenue and Snow Meadow Lane, is expected to be completed by the end of the year. Trail connectivity on Lewinsville Road is especially important with the pending completion of the Phase I Silver Line Metro stations, expected to open at the end of December. The new walkway connects Scotts Run Road to the recently completed walkway along the new Lewinsville Road beltway bridge, installed as part of the I-495 Express Lanes project.
Project design engineers overcame the challenge of a deep ditch near the Scotts Run Road terminus. Fill dirt and a new guardrail now provide a seamless connection between the trail and Scotts Run Road.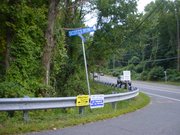 "I am very pleased to see this project completed. Piece by piece we are putting together safe routes for pedestrians to reach both the McLean and the Spring Hill metro stations," said Supervisor Foust.
For more information, please contact Julie Ide in the office of Supervisor Foust at 703-356-0551 or email Julie.Ide@FairfaxCounty.gov.