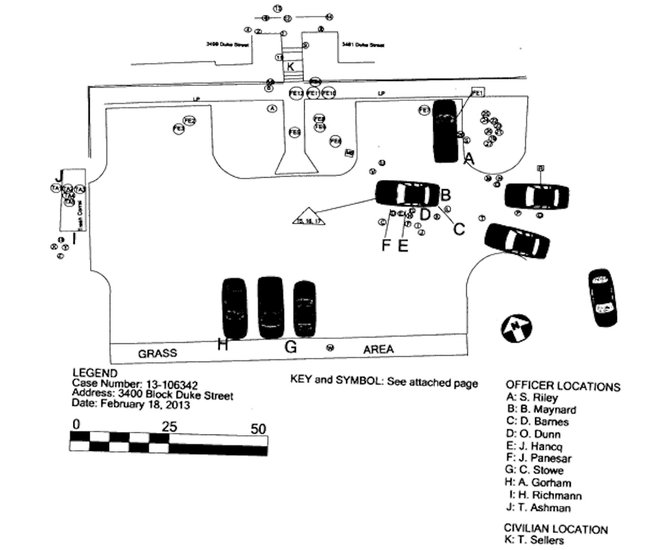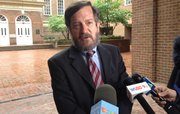 Document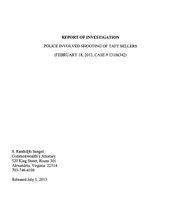 Seven different officers shot 37 rounds at Alexandria man Taft Sellers last February during a standoff in the city's West End, hitting him five times. Now, more than four months later, Commonwealth's Attorney Randy Sengel has determined that the officers were entitled to use deadly force, and that they fired their weapons in self defense. On Monday, Sengel issued a 30-page report detailing what happened that February afternoon and how the investigation was conducted.
"After thorough investigation in the matter, it's my conclusion that it's not appropriate to bring criminal charges against any of the officers involved in the case," Sengel said during a Monday afternoon press conference. "Mr. Sellers pointed a firearm at police officers during the incident, and under a threat of deadly force police are legally entitled to use deadly force in response."
The incident happened on Feb. 18 at 3400 Duke Street, a location that was within a stone's throw of the Alexandria Police Department's new headquarters on Wheeler Avenue. Officers responded to a dispatch call for domestic dispute, and responders were warned that the subject of the call was armed. Sengel's report says that Sellers' sister called for police assistance and informed the police her brother had a gun. By the time the first responder arrived on the scene, he could see Sellers standing in a stairway from across the street. The officer approached Sellers and asked if he had a gun.
"Sellers nodded affirmatively," according to the report. "Sellers then placed one of his hands behind his back."
ALTHOUGH THE SUSPECT did not display a weapon at this point, the responding officer interpreted the position as what he called "a shooting stance." So he retreated back to his marked cruiser and took cover, drawing his handgun in the process. Two other officers then arrived and took cover behind the cruiser. One of the officers restrained Sellers' mother.
"He's got a gun," one of the officers yelled. "It's behind his back!"
One of the officers grabbed a shotgun, racked a round in the chamber, rested it on the roof of the car and aimed it at Sellers. Another officer deployed his M-4 rifle. Meanwhile, several of the officers began making attempts to engage Sellers in conversation — asking him to show his hands and come out. Their requests were met with silence. One of the civilian witnesses told investigators that officers attempted to negotiate with Sellers for "quite a long time," and that they didn't simply "get out of their cars and start shooting."
None of the attempts to negotiate worked, however. Sellers eventually emerged from behind the wall, gripping a Glock model 19 semi-automatic pistol with both hands, and aiming it at one of the officers. The investigation later revealed that the firearm had 15 rounds of live ammunition with one round in the chamber and 14 additional rounds in the magazine.
"Under these circumstances, the law clearly supports the conclusion that the officers were entitled to use deadly force in response and that they fired in self defense," Sengel concluded. "Criminal charges against the offers are not appropriate."
WHEN THE FIRST shot was fired, several of the officers said during the investigation, they thought Sellers was firing. Others weren't sure who had fired. But first round prompted more shooting, setting the scene for a massive response from police officers that resulted in 37 shots fired — all from the Alexandria Police Department. Sellers never fired his weapon. One of the officers said it looked like Sellers was moving right and left as the shots were being fired at him. Five of the shots hit Sellers.
"Cease fire," one of the officers yelled.
As they approached Sellers, they could see that his gun was still within reach. So one of the officers moved it out of reach so they could move in on the suspect. The autopsy report later showed that Sellers died from multiple gunshot wounds. A toxicology analysis taken from blood samples ruled out the presence of alcohol or other drugs in Sellers' system.
"There is no conclusive evidence regarding any motive for Sellers to have acted in the way that he did," Sengel concluded.''
SELLERS SERVED in the Marines from 2001 to 2007, when he received extensive training in the use of firearms. His assignments included guard duty and security at U.S. embassy property. Several people who knew Sellers who were interviewed as part of the investigation said he suffered from depression.
On the day he died, he sent an email to friends and family implying he was going to commit suicide. The email raised alarm bells among recipients. His girlfriend called police within a half hour, a call that sent officers to the scene. By the time they arrived, however, Sellers had already been shot.
"Whether or not at the moment before he was shot, Sellers deliberately chose to provoke police officers into using deadly force against him remains unclear," Sengel wrote. "The idea of committing suicide in this manner is based on exploiting procedures that law enforcement officers are trained to use."
Sengel concludes that it's certainly reasonable that Sellers would have known the likely outcome of pointing a weapon at police.
"If Sellers did harbor suicidal ideation at this moment, this certainly adds yet another sad and tragic diminution to this case," Sengel wrote. "But it does not alter what officers saw and acted upon in this situation."
THE REPORT was released voluntarily by an elected commonwealth's attorney who is in his last year in office. Sengel has issued public reports in two other recent cases, one involving a shooting on Wyatt Avenue in Del Ray and another involving a shooting in the parking lot of an International House of Pancakes. Fairfax County and Arlington County, meanwhile, refuse to release these kinds of reports — even when they are requested under the Virginia Freedom of Information Act.
"I think it's important for the public to understand what happened and to have as much information as they can about the details," said Sengel. "When this first occurred, there was a lot of speculation and rumor and innuendo floating around. I frankly think it's important to clear that up and get the facts out there."