Lieutenant Colonel Mark Sites has been sworn in as Fairfax County Sheriff on Monday, July 1. The Honorable Chief Judge Dennis Smith administered the oath.
In early June, Sheriff Stan Barry, who has held the office since 2000, tendered his resignation to the Board of Supervisors. His current term ends in December 2015. Under Virginia law, the chief judge of the circuit court must fill the vacant position with the highest ranking deputy sheriff and call for a special election to fill the remainder of the term. Fairfax County has scheduled the special election to coincide with the general election on Nov. 5.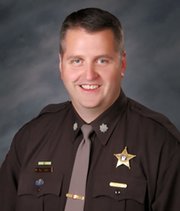 Sites is a 17-year veteran of the sheriff's office and has served in a variety of line and supervisory positions, including chief of confinement, assistant commander of the emergency response team, commander of court services and chief deputy sheriff of administration. He has served the community as a member of the Fairfax Community Criminal Justice Board and chair of the Fairfax-Falls Church Community Services Board.
He received his bachelor's degree in administration of justice from George Mason University in 1995 and his master's degree in public administration from GMU in 1998. He is a 2012 graduate of the Federal Bureau of Investigation's National Academy in Quantico, Va.
Sites was born and raised in Fairfax where he currently resides with his wife and children.