Metropolitan Fine Arts Center (MFAC) of Alexandria has officially moved into the Workhouse Arts Center in Lorton. The new studio at the Workhouse Arts Center, building W-4, is 7,000 square feet, much larger than their former location in Fairfax Station, allowing for more classes and performance space. For more information, go to www.metrofinearts.com.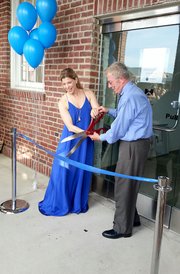 "Classes have started in our new spacious studio and we're loving it … we appreciate the partnership with the Workhouse Arts Center," said Melissa Dobbs, executive director of Metropolitan Fine Arts Center of Alexandria and Lorton.
Founder and Executive Director Melissa Dobbs was classically trained at Duke Ellington School of the Arts in Washington, D.C., George Mason University and the Royal Academy of Dance in London, where she became a registered teacher. Noted for its world-class instructors, MFAC offers high-quality performing arts training in a ground breaking, holistic learning environment that cultivates creativity, builds community and empowers students.
For more information, call 703-339-0444 or visit www.metrofinearts.com, Facebook or Twitter.